On Thursday 21st June, the first ever Nottingham Digital Summit took place: a digital marketing conference right in the centre of Nottingham, in the glorious setting of Nottingham Playhouse. The summit was organised by Nottingham company Hallam, and the money raised from ticket sales went to the homelessness charity Framework. A fantastic £15,280 was raised for the charity.
Not only was it great to raise money for a local charity and a good cause, it was also brilliant for Nottingham's digital community to come together to network and share ideas. A whole host of great speakers gave talks throughout the day, offering insights and advice about all things digital marketing. Here's a brief roundup of the talks.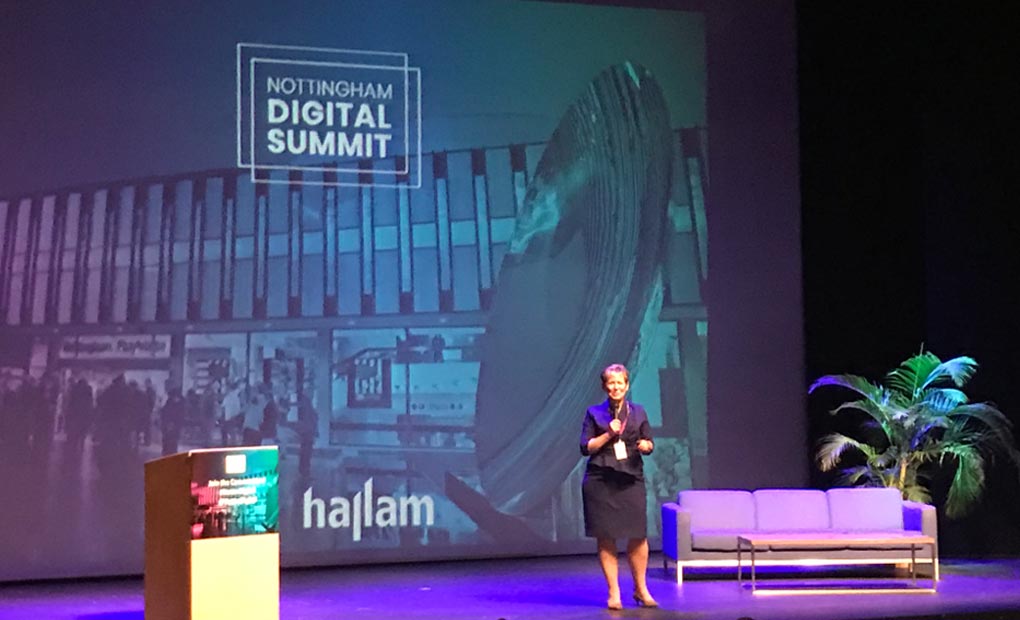 Search: A New Evolution
Vikas Arora – Microsoft
Vikas gave a really interesting talk focusing on bing's developments and the way search is changing and evolving. Much of this centred around AI and how it is going to become more and more integral to the search experience, offering users more personalised searches. He also spoke about the Microsoft Bot Framework, which allows the creation of intelligent bots that can interact naturally with users. The overall message was to expect a trend toward much more automated, personalised and intelligent search and digital marketing going into the future.
How to Make Your Content Marketing Cheap, Scalable and Effective
Kirsty Hulse – Many Minds
The second talk focused on content marketing and contained lots of great, practical takeaways to apply in your day-to-day work. Kirsty gave fantastic advice on how to come up with top content that people will want to engage with – and that doesn't cost the earth! As ideas and data are free and cheap respectively, she noted, then a great approach is focusing on great ideas and using freely or cheaply available data to create content that is genuinely interesting and useful. Think white papers and academic research. She also recommended lots of great free tools for quick content creation, such as Outgrow and Designmodo.
Making a Social Impact
Michael Leng – Framework
Michael from Framework gave a really powerful speech about the work that Framework do in the community. He also mused on how advancements in technology have the potential to really help with the work they do, by enabling people in a vulnerable situation to access valuable advice and information more easily. Great food for thought, as well as great to hear about how the money raised by the event could help the homeless in the East Midlands.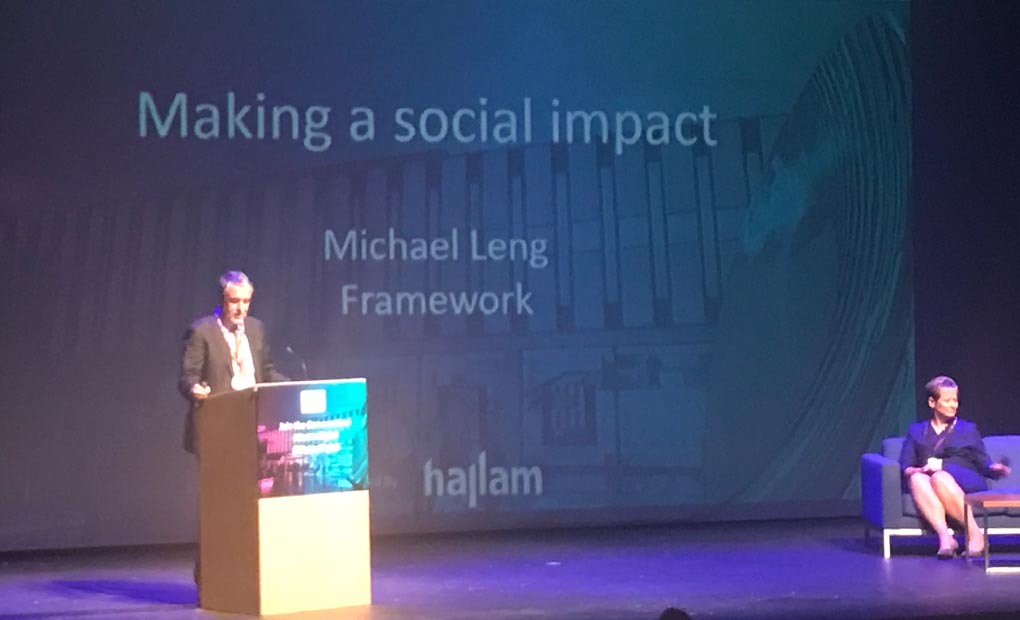 Speedo Goggles: Looking Through a New Digital Lens
Rachel Starling – Speedo
Rachel is Senior UX designer at Speedo and talked us through a case study to demonstrate the importance of user experience and how to effectively design with users in mind to increase conversions. This gave a really interesting insight into how the UX design process works, including how different departments and marketing disciplines are involved. She showed how Speedo created a goggle selector to making choosing the right pair of goggles easier for their customers, as well as some impressive resulting conversion rates!
Improving Your Digital Marketing Skills
Dr Dave Chaffey – SmartInsights
In this talk Dave spoke about what he sees to be the upcoming trends in digital marketing – and how marketers can stay ahead of the game with their skills. A good talk for career development! He suggested that upcoming growth areas will include a multi-channel focus rather than mobile first, AMP (accelerated mobile pages) and PWAs (Progressive Web Apps) – bridging the gap between apps and mobile web pages. He cited the biggest skills gaps as being in data and strategy, and like Vikas he said that AI, chatbots, and machine learning would be on the rise in 2019.
Harnessing Automation to Power Your Online Advertising
Owen Gill – Hallam
Before lunch, Owen Gill, Head of Paid at Hallam, spoke about the power of automation in online marketing. He gave us some interesting stats, such as: "By 2022, 80% of the advertising processes will be automated" (Phil Gauhran) and "Programmatic will account for 28% of all ad spend in 2017/2018". Owen stressed utilising the power of data for targeted ad automation and spoke about usable automation options such as automated bidding from Google using custom scripts.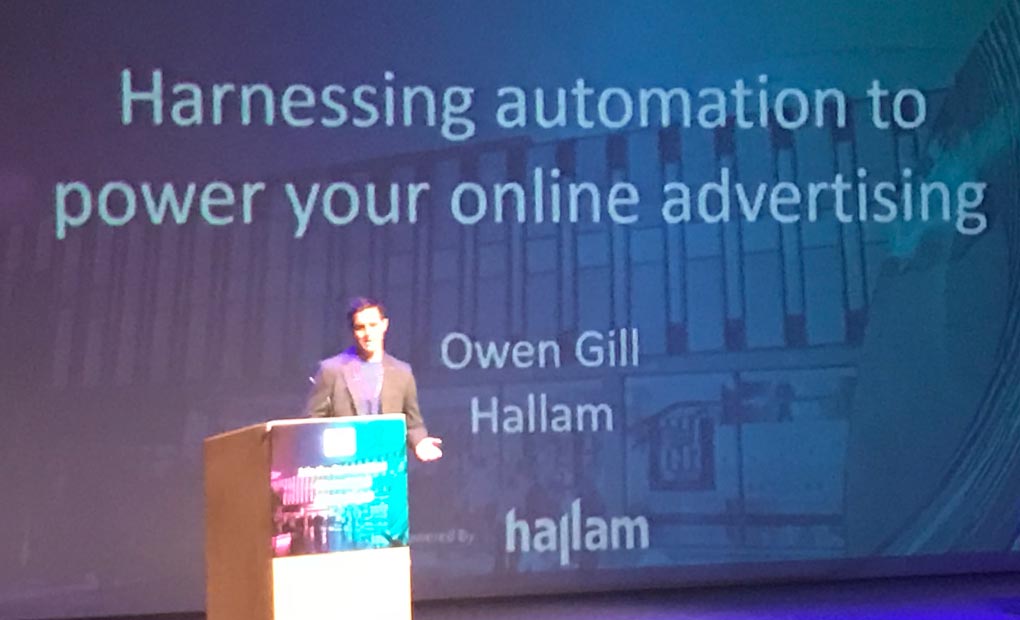 Uncovering the "Why" in the Data Driven World of "What"
Dr Sam Howard – Userfy
Sam is the co-founder of Userfy, which conducts user research to provide valuable insights for product development. His talk was all about the importance of quality data that comes from real users and gets to the bottom of "why" they are looking for particular features—as opposed to big data, which he describes as "wide + shallow" as opposed to "narrow + deep". We really liked Sam's examples of the importance of user experience from his PhD in the healthcare field!
Search in a Screenless World: How Voice Search & Contextual Triggers Change Everything
Barry Adams – State of Digital
Barry gave a very entertaining talk all about the rise of voice search and what it will mean. Alongside his comical scepticism of voice activated home assistants and Google's industry dominance, he spoke about how voice search and contextual triggers such as data on location and upcoming user events will make marketing more tailored to the individual, as well as seeing the rise of more unprompted marketing messages sent to portable devices. He spoke about the importance of integration structured data and deep indexing going forward!
Marketing Personalisation: Evolving Consumer Engagement
Ian Coupland – Experian
Continuing an ongoing theme of the conference, Ian from Experian spoke about the importance of personalisation in marketing. An interesting point he spoke about was the creation of "personas" or customer "groups" who you can target marketing activities at. In grouping people by age, location or interests, you can deliver what appears to be a personalised experience (which makes people much more likely to convert), without actually collecting lots of data on individuals (and risking the wrath of GDPR!).
Design Systems: The Visual Language of Your Brand
Julio Taylor – Hallam
Julio's talk was all about the classic marketing concept of brand consistency and recognisability and transferring this to the web. He said that just as brands use the same colours, tone of voice, marketing materials etc. offline, an online presence should carry on these elements so that people recognise your brand and you send out a clear message on what you are about.
A Fireside Chat
Meaghan Rogers – Google
In this relaxed chat with compare Susan Hallam, Meaghan talked about the working culture and ethos at Google, as we managed to get a couple of clues about Google's plans as well. She spoke about Google Attribution, the next big free service they will be bringing out to provide even more useful marketing data. We also learnt that Google has delayed the release of Attribution until 2019.
Great Inclusive Design Processes: Design With People, Not For People
Gavin Holland – Capital One
The last speaker of the day was Gavin from Capital One, talking about inclusive design and how this works at Capital One. He emphasised that it is key to have a variety of different people involved in the design process, especially team members who are in close contact with the customer and know what they need and how they work. Other top tips included techniques for getting people without a design background to feel comfortable unleashing their artistic flair!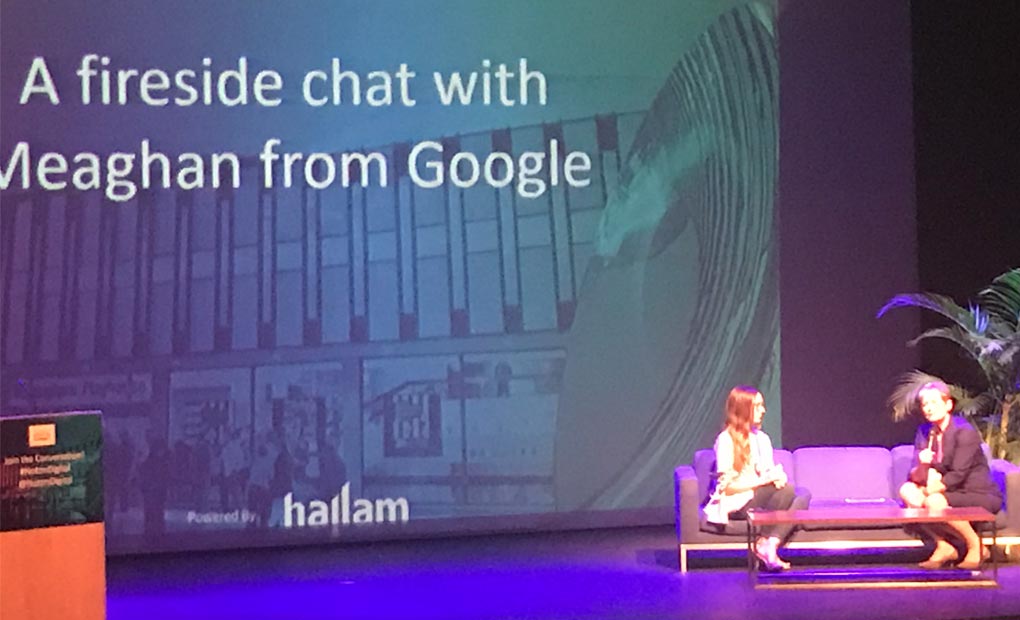 Overall, the Nottingham Digital Summit was a great day that gave us some interesting things to think about. Kumo had a great day there, and the number of people who attended and the fantastic atmosphere showed how much of a hub Nottingham is for creativity and digital marketing!