Last week three of us from the Kumo team headed down south for the first BrightonSEO of the year. The bi-annual SEO conference sees digital marketers from all over the country (and the world, in fact!) head to the seafront in the vibrant city of Brighton to talk and learn about all things search marketing.
It's always a fantastic event: we love hearing the latest insights about SEO and meeting like-minded people who are just as passionate about digital marketing as we are!
As well as lots of exhibitors and some fringe events, the main part of the conference consisted of industry experts across 6 different stages speaking about content, technical SEO, link building, machine learning, social media and more. These were the talks that stood out for us…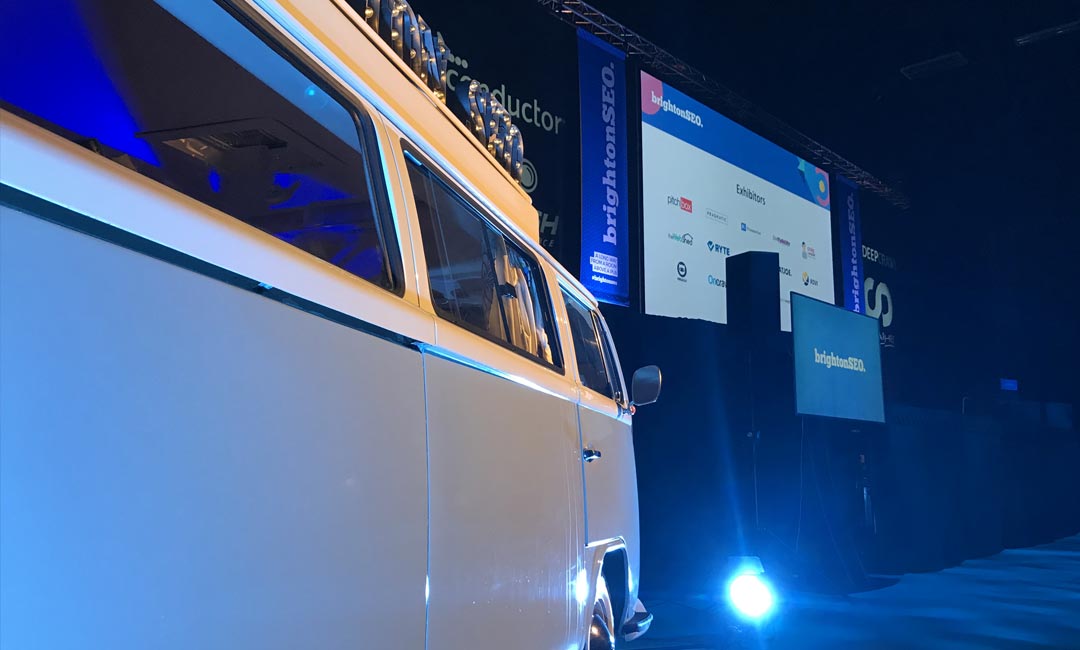 Optimizing for Search Bots – Fili Wiese
This talk from Fili Wiese focused on on-site SEO and how to make sure a web page is in the best condition to be crawled by search bots from Google or other search engines.
He warned against common pitfalls that can mean it is difficult for your site to be crawled, such as server errors, a slow site speed (he recommended the Lighthouse tool here) or things like AdBlocker switching off JavaScript.
He also gave optimisation tips such as using breadcrumbs and making sure your sitemap is complete to help Google prioritise which pages to crawl. His best advice had to be that if you are thinking of migrating your website to https, it might be best to wait. Once you register the new domain Google will crawl your entire site again, which presents you with a unique opportunity to reset all your SEO signals.
He recommended improving your SEO measures before you migrate, so that when Google does a full crawl of your site, you're sending out all the right signals.
Top take away: Make sure you tell Google exactly what to do and where to go when it crawls your site!
Advanced and Practical Structured Data with Schema.org – Alexis Sanders
Alexis' talk on structured data gave a great introduction for those less familiar with structured data, and delved in deeper for the old hands. She gave an overview of structured data, compared the two types microdata and JSON-LD, spoke about how and why to nest products and demonstrated a handy tool for generating schema markup with JSON-LD.
And using a little quiz for the audience on the first slide, she underlined the importance of validating your structured data to avoid errors. This highly-anticipated talk certainly delivered, and contained a wealth of information!
Top take away: Validate your structured data using structured data tools!
Slides: https://www.slideshare.net/sandersal1/brightonseo-structured-data-by-alexis-sanders
Digital PR on a budget: How to get awesome press links for SMEs – Corinne Card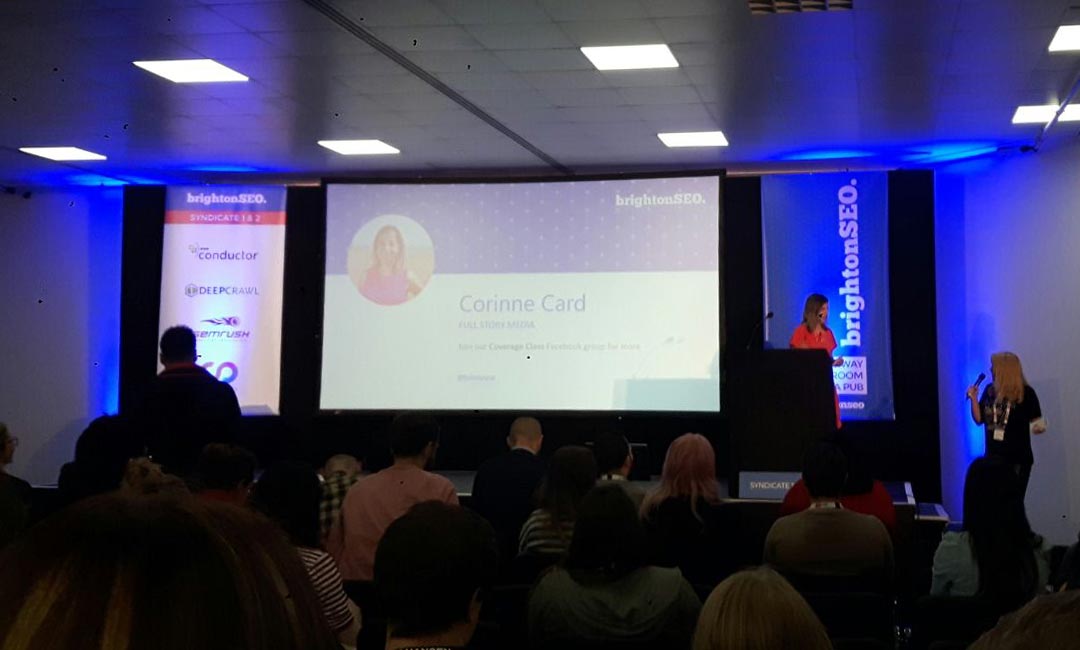 This was a really interesting talk that took place towards the end of the day in Syndicate 1 & 2. It was all about the SEO topics of good content and link building, but from the perspective of a journalist.
Corinne gave some great tips for getting backlinks from the press that don't require a massive budget. One interesting point she spoke about was the importance of providing good quality photos that sell your story. In terms of creating great journalistic content to help you get backlinks, she recommended trying to predict the future. It's not as crazy as it sounds!
She spoke about looking at upcoming events or potential events and having content written up in advance, as well as going straight to the source of information rather than waiting for other journalists to publish it.
This way you can be the quickest off the mark. She also spoke about the importance of being concise, keeping to the main details and utilising online communities to create snowball effects.
Top take away: Be proactive not reactive!
Slides: https://thedigiterati.com/digital-pr-budget-smes/
The Ray Stantz Guide to Real World Linkbuilding – Greg Gifford
In true Gifford style, Greg delivered the kind of lively, entertaining and informative presentation we have come to expect from him. Fuelled by charisma and undeniable knowledge of local search, Greg's sci-fi themed slides took on a different twist from most link building talks.
He explained that truly hyperlocal links don't necessarily have to be coming from the really big DAs and Trust Flows that most go chasing after. Location is the primary factor and campaigns can focus around that rather than chasing the stars 24/7.
One of the most riveting insights he gave was that websites should focus on identifying unique link opps, at the same time as analysing up competitor links and removing their uniqueness – a true two birds, one stone scenario.
Top take away: Leverage local events and sponsorships to effectively build links that no competitors will have.
Laura Hogan answered the age-old question – "how do I build links with no budget?"
She offered a range of suggestions including unlinked brand mentions, newsjacking, case studies and PR. Hogan demonstrated actionable and simple ways to actually build links, complete with real life examples including:
Setting up brand alerts
Journo alerts
Freedom of information requests aiding statistical and quotable content
Finding marketable hooks and expertise
She explained that these very tactics have been used to garner national attention for a number of companies she works with.
Top take way: Most government sites allow event submissions so if there are any coming up, it's definitely worth checking if you can get a local community event listed.
Slides: https://www.slideshare.net/LauraHogan1/big-links-for-0-brightonseo-april-2018
How Metrics and Data Drive Advocacy Effectiveness – Steve Rayson & Giles Palmer
Steve Rayson of BuzzSumo and Giles Palmer of Brandwatch shared the stage to discuss the noticeability of content. In particular, they examined how to amplify content to stand out amongst the thousands of posts that are published each and every day.
Presenting what can only be described as comprehensive research, they shared insights into social engagement, content length and average links.
Interesting fact – the median number of links for articles is 0 and over 70% of published posts don't get a single backlink.
A decline in social sharing has been met with a steep upturn in dark social – shares that can't accurately be measured, WhatsApp, Slack etc. Changes such as Facebook's algorithm shifts have changed social focus and Google now sends twice as much traffic to sites making SEO more valuable than ever.
Understanding demographics of social networks is important, too. Rayson explained that 81% of Pinterest users are female, contributing 93% of shares of the platform. On the other hand, Reddit is male-dominated (71%) and its user base is mainly under the age of 25.
Top takeaway: Not all content has to be longform. Different industries and intents require different volumes. Research the topic and aim to be the authority before trends begin.
Slides: http://buzzsumo.com/blog/content-trends-2018/
Summary
We really enjoyed the day. As well as that unmistakable Brighton buzz, there was a really diverse range of topics covered, from some unique perspectives. All we can say is that this year's slogan, "SEO will never die," couldn't be more right.