I remember my first love; I doubt that it remembers me, though. After all, it was a PlayStation and the relationship ended when I somehow managed to break the laser inside it. To top it off, I never got it anything for Valentine's Day. If I'd had Google back then, things may have been different.
The search engine has come a long way since then and is now host to an incredible number of searches, with some particularly interesting trends during this time of year. It's that heart-warming period where loved up couples buy each other gifts, go out for dinner and get away from it all. Of course, Google is a friend to those looking to buy their significant other that special something.
Soul mates may have been connected but the searching doesn't stop there. February 14th, and the days leading up to the grand expression of love, sees many lovers taking to the internet.
The Gift of Gifting
Valentine's Day is awash with clichés and predictable gifts. Many result in, or push close to, search volume peaks for given terms. Flowers, confectionary and jewellery are amongst the traditional presents dished. With that being said, how does search reflect this?
Flowers
Not many things say "Happy Valentine's Day" like a bunch of flowers. As a florist sells flowers, it's logical to search for one operating nearby. We'll use the search term "florist near me".
The interest over time graph from Google Trends shows an enormous spike between the 4th and the 10th February 2018, weighing at 98 pushing very close to 100. 100 was scored between 19th and 25th March, the days running up to Mothering Sunday on the 26th March.

Data from Google Keyword planner supports this, too. February and March have a significantly higher share of the annual search volume than the rest of the year.

The average number of searches a month for "florist near me" in 2017 was 658,260. February volume was 826,940, 22.7% higher than the rest of the year.
Confectionary
From Thornton's chocolates to Swizzels Love Hearts, sugary treats are handed out in their droves in February. Whilst many will simply flock to the nearest supermarket, others will enlist the help of Google.
In January and February 2017, there were 3,967,490 searches for "Valentine's chocolate" and 1,643,940 for "Valentine's sweets".
Jewellery
There's one piece of jewellery that stands out above all others for Valentine's Day. Wedding bells chiming over the horizon are often the result of a successful Valentine's proposal. Valentine's Day is one of the most popular days, alongside Christmas Eve, Christmas Day, New Year's Eve, New Year's Day and birthdays, to get hitched.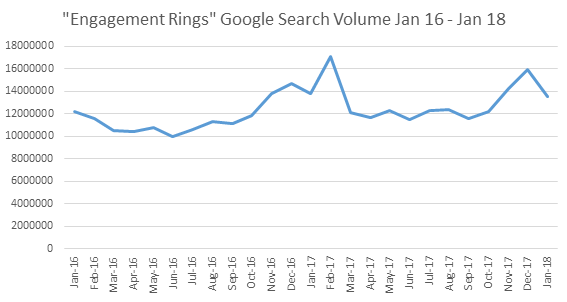 Search volumes for "engagement rings" picked up between the Christmas and Valentine periods of 2016/17. In February 2017, a total of 17,067,950 searches were performed, 11.7% of which came from the UK.
Making sure the moment is a perfect memory is essential for many, with Google as ever ready to help out.
The interest over time graph for the term "How to propose" goes off the charts when it comes to February.

This isn't a new phenomenon, though. Data from the last five years shows exactly the same trend.

Is There a Gender Giving Divide?
What you buy will obviously depend on the person you're buying for. Google provided some pretty interesting insights concerning gender gifting in 2016. The search terms "gifts for boyfriend" and "gifts for girlfriends" show very distinct patterns.
"Gifts for boyfriend" searched start to pick up after Christmas in January. "Gifts for girlfriends" on the other hand, goes nowhere until February.
As well as that, Google's internal data indicates that four times as many "gifts for boyfriend" searches were initiated in the run up to Valentine's Day.
According to Keyword Planner, average UK monthly searches for the two differ greatly.

Perhaps the idea of women being hard to buy for is a myth? Either that or the people buying for women have some making up to do. This is unless of course, the ladies are still basking in their Christmas gifts.

Interest over time shows that November and December were busy months for people searching for "gifts for her". There's then a turnaround in momentum as more interest is shown in "gifts for him".
This could highlight attitudes towards Christmas and Valentine's Day as holidays, and possibly even which is valued more by people looking for gifts.
Data might also suggest that married couples either
a) Know more about each other and don't need to search for generic terms
or
b) Don't make as much effort for Valentine's Day


I'll let you make your own mind up as to the real reason…
Singletons on the Rise
What about those without a special one to share the day with? Recent years have shown an upward trend in singleton terms.
Search patterns for iconic tunes over the last few years are certainly interesting.
All By Myself – Celine Dion
| Year | February Search Volume (UK) |
| --- | --- |
| 2014 | 39,960 |
| 2015 | 42,710 |
| 2016 | 46,470 |
| 2017 | 51,330 |
That's a 28.5% increase in four years. In fact, according to Google, YouTube searches for the song were up by 125% on Valentine's Day 2016.
Single Ladies – Beyoncé
February searches for Beyoncé's 2008 hit are up over four years but were down from the previous two years in 2017.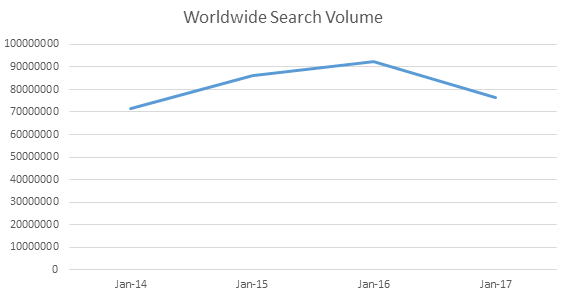 Were a great number of single ladies snapped up in 2016?
Singles Awareness Day
Searches for the increasingly popular "Singles Awareness Day" continue to rise, too. Some people see it as the antithesis of Valentine's Day and looking at the data, it's certainly gaining traction.

February searches for "Singles Awareness Day" are up by 56.1% since 2014. If January is any indication, 2018 is likely going to be a big month of search volume, too.
Galentine's Day
Galentine's Day is the title of an episode of Parks and Recreation, an American political satire sitcom. In the episode, protagonist Leslie tries to set up her mother with her teenage lover before Valentine's Day, which doesn't go as planned.
It has spawned a mass following of single women rounding up their best friends and celebrating their love for each other. The name of course playing on the Valentine's name and replacing it with "Gal", an American colloquialism for girl.

Trends' Interest over time show increasing popularity, with the incomplete data set of February 2018 already being the pinnacle of searcher attraction.
A Day of Love and Search Engines
Whether you're part of the loved-up gang or celebrating the single life, Google is right with you. Google Photos will even let you create your own movie. Whether it's for you or a loved one is another matter.
Using the official app or a browser, just choose Movie from the Create new section and choose an option and then let the magic commence.
Sources:
Google Keyword Planner: https://adwords.google.com/intl/en_uk/home/tools/keyword-planner/
Google Trends: https://trends.google.com/trends/
Feel the love this Valentine's Day with Google Photos: https://www.blog.google/products/photos/feel-love-valentines-day-google-photos/
Searching for Love on Valentine's Day: https://www.thinkwithgoogle.com/intl/en-gb/consumer-insights/how-advertisers-can-hit-the-target-this-valentine-day/
A Very Mobile Valentine's Day: https://storage.googleapis.com/think-v2-emea/v2/6e688_Google_Valentines_infographic_UK.pdf