A beta version of the Google AdWords add-on has officially been rolled to the public. The add-on combines two of Google's products, AdWords and Google Sheets.
It's pretty easy to both download and use. Once installed, you'll be able to import data from an AdWords or MCC account.
How to Connect the AdWords Add-On
Of course, you'll need to integrate the add-on with your sheets.
Follow this link to install the beta.
After installation, a new sheet will be opened and you'll be asked to connect your accounts.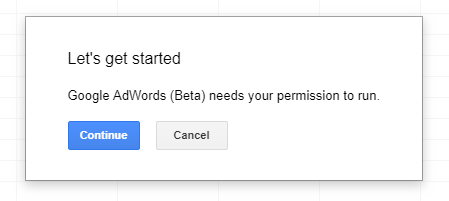 Click Continue and sign into your AdWords/MCC account and allow the relevant permissions.
That's it. The add-on should now be usable with Google Sheets.
To confirm, there should be a message telling you how to create your first report.

Running a Report
To get started on importing your data click Add-ons -> Google Adwords -> Create new report.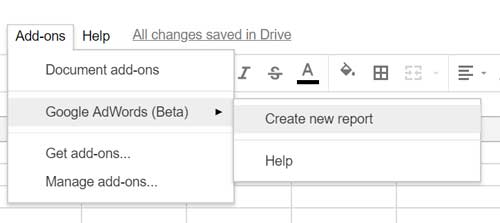 You'll see your sheet take on a new look, like so:
More importantly, however, are the options and filters available on the right-hand side of the sheet.
The first thing to do is choose your account. If you've used an MCC account you can select multiple accounts should you want to.
You'll then need to select your date range.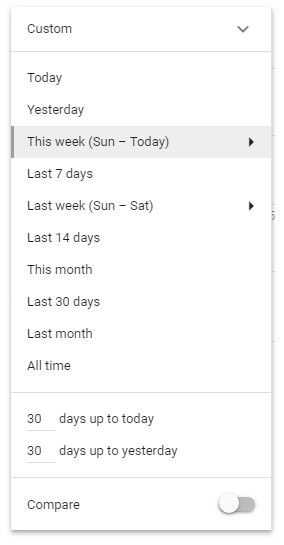 As you can see, there's a wide selection to choose from as well as a custom option.
Selecting a report type is next. Simply drop down the menu and choose from the list.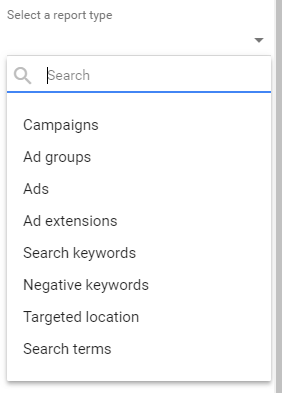 Once you've selected your report type, you can configure which columns to include in the report.
Depending on which report type you chose, a number of columns will be automatically selected. Certain columns are required to run a report for certain types.
For example, the Campaigns report requires Campaign, Campaign status, Budget, Status and Bid strategy.
To see which types require which columns, simply select desired report. You'll see them right at the top of the column. In all likelihood, you'll want them all, anyway.
Don't worry, there's a massive range of additional columns you can include. Not all are available for each report type.
Lastly, choose any filters you want. Again, the usual suspects are there if there are any rules you want to apply to your data.
Click Create Report and you're done – your front page will fill with data imported from your account(s).
Changing Your Reports
If you're looking at your data and wanting more you can easily add more reports to the same sheet.
Just follow the same steps you took to create the original and select Create new report from the add-on's menu.
You might notice it looks slightly different after you run your first report.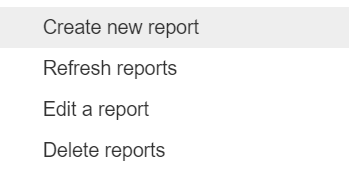 You can refresh your data to give you the latest results and edit current reports if you want to add another column or anything else.
Just like a standard Google sheet, you can share this document how and with who you see fit.
Whether it helps to simplify your data or present it better depends on a number of factors. There's no denying, though, that it certainly makes collating it that much easier.