As of 26th October 2016, Google AdWords will no longer support the creation or editing of standard text ads. Standard text ads will however, continue to show alongside extended text ads, but you'll no longer be able to create or edit standard text ads.
Standard text ads are to be replaced by a brand new ad format named 'Extended Text Ads'. This new format provides the advertiser with almost 50% more ad text, which in turn lets them showcase their product or service in a much more meaningful way, providing additional useful information to the user whilst taking up more real estate on the search results page.
Standard Text Ad Character Limitations
Headline:
25 characters
Description Line 1:
35 characters
Description Line 2:
35 characters
Display URL:
35 characters
Total Characters:
130 including domain name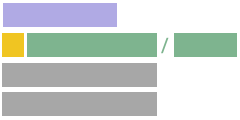 Extended Text Ad Character Limitations
Headline 1:
30 characters
Headline 2:
30 characters
Description:
80 characters
Path Field 1:
15 characters
Path Field 2:
15 characters
Total Characters:
170 + your domain name

Below are examples of how the standard text ad differs from the new extended format, in this example, Currys is using a standard text ad whilst Argos is using the new extended version:
Standard

Extended

Over the past 30 days, we've been running some split tests of our own to determine how these new ads impact performance. We wanted to see how this would affect click through rates initially, but what we found was that performance across the board for these new ads was very positive indeed. We ran split tests for a wide range of clients, all performance was positive however for the purposes of this post we'll focus on the below split tests. Two split tests, one extended text ad vs the existing standard text ad, and we did this across two Ad groups with the most search volume in order to see an almost immediate impact.
| Split Test 1 | CTR% | Avg. CPC | Conversions | Cost / Conv. | Conv. Rate |
| --- | --- | --- | --- | --- | --- |
| Standard Text Ad | 2.69% | £5.58 | 28 | £64.55 | 8.64% |
| Extended Text Ad | 5.56% | £5.20 | 47 | £48.25 | 10.78% |
As you can see from the data above, the new extended text ad saw an increase in CTR of 106.69% compared to the existing standard text ad. The CPC dropped for the new ad by 6.81%, whilst conversions increased by 67.86% bringing the cost per conversion down by 25.25% and increased conversion rate by 24.77%.
| Split Test 2 | CTR% | Avg. CPC | Conversions | Cost / Conv. | Conv. Rate |
| --- | --- | --- | --- | --- | --- |
| Standard Text Ad | 6.51% | £6.53 | 5 | £130.61 | 5.00% |
| Extended Text Ad | 8.84% | £6.45 | 21 | £40.55 | 15.91% |
Similar performance can be seen from the second split test we ran, however this one seemed to have a huge impact on conversions, conversions up by a whopping 320%, alongside this came a 68.95% reduction in cost per conversion and a 218.20% increase in conversion rate.
"Expanded text ads provide more opportunity for you to connect with users and drive more, qualified clicks to your website"
Our data shows in the two tests we ran, that the new ads are driving more qualified clicks as conversion volume, CPA's and conversion rates truly reflect the above statement.
I highly recommended that you set the new extended text ads up, let them compete against your existing standard ads and see how they fair. Try to keep the ad text very similar as to create a fair as possible test, let them run for at least 30 days reviewing the data regularly. The data will likely vary from industry to industry, advert to advert so let the data come in and optimise as required. Overall you should certainly see a positive outcome with these new ads.
Setup Extended Text Ads
These ads are set up in exactly the same way as traditional text ads.
Step 1)
Select the relevant campaign.
Step 2)
Select the relevant Ad group.
Step 3)
Navigate to the Ads tab:

Step 4)
Click the red + AD button and select 'Text ad':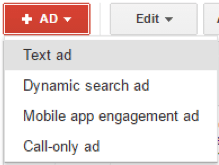 From here you will see that this section has been changed to show the new extended text ad format as default, simply create your advert in here and click 'Save ad'.