There are many common questions that business owners have asked us relating to Google AdWords and the type of advertising that it provides, so the following article will hopefully clear many of those questions up.
What Is Google Adwords?
Google AdWords is an online system that is used for the set up and management of pay per click (ppc) advertising campaigns on the Google search engine and partnering websites. Its initial release was in October 2000 and has seen many changes over the last fifteen years as detailed here: http://www.google.co.uk/about/company/history/. Individuals and companies use Google AdWords to advertise upon the largest search engine in the world by displaying unique adverts to people who are actively searching for their products or services.
With AdWords an advertiser has complete flexibility over when and what their users are seeing as they can create campaigns, ad groups and adverts to a granular level which enables them to be highly relevant to what the user is searching for. Google AdWords is an extremely powerful and popular advertising tool that has the ability to generate immediate traffic and sales to any business.
What Is Pay-per-Click (PPC)?
Pay-Per-Click is an advertising model in which advertisers pay only when a user clicks on their advert. These users are potential customers for a business as they are actively looking for the products or services that are on offer as the ads will only display when they are triggered by targeted keywords. These users will then get sent to a landing page of the advertisers choice, which is defined when creating the ads, again this allows the advertisers to provide highly relevant results to the end user who is searching.
Where Do Google Ads Appear?
Google AdWords provides an advertiser with multiple options when choosing how and where they would like their adverts to show, whether they choose the Search Network, the Display Network, Google Shopping, Online Video or a mixture of them all, there are multiple options depending on what goals the advertiser has. The default here would be to show ads on the Search Network as ads can be seen immediately on the first page of the SERP's, and can be seen highlighted in yellow in the image below. The product results at the top have been highlighted in blue and these ads are part of Google Shopping named Product Listing Ads (PLA's), whilst the lower section highlighted in green is Google's organic search results.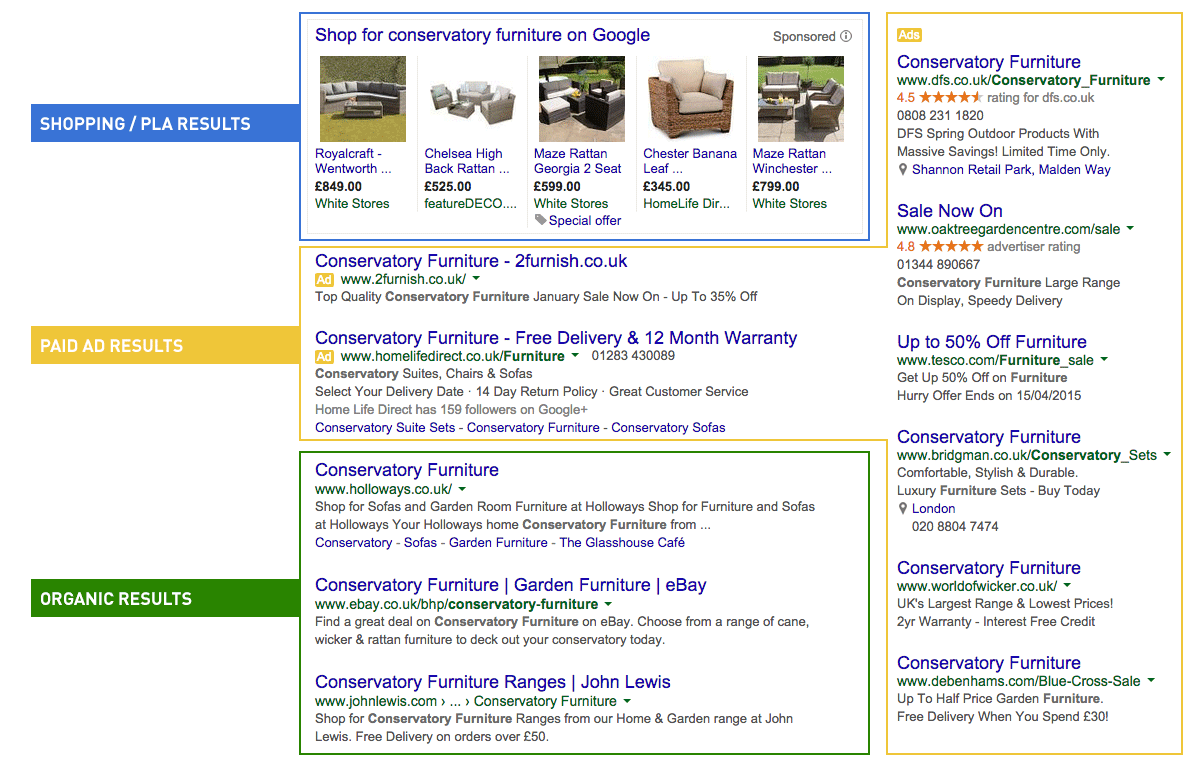 An advert in prime position (top three spots) on the Search Network will usually look the following, depending on what Ad Extensions are being used:

Whilst an advert on the right hand side will usually look like the following as most ad extensions do not appear until the ad is in a prime position: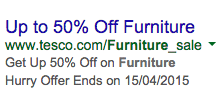 The two different adverts above demonstrate why the top three advert position are well sought after as they take up much more real estate and provide a lot more information to the searcher which is very likely to improve upon the adverts Click Through Rate (CTR).
How Much Does PPC Cost?
When using the pay per click advertising model with Google AdWords, advertisers pay per click based on a real time auction developed by Google which runs every time an advert is eligible to display. The price they pay varies based on multiple factors such as how competitive the keyword is at that time and their overall Ad Rank, which again is determined by multiple factors such as the keyword Quality Score and the maximum set cost per click (Max. CPC). The amount of money an advertiser pays can be restrained by the daily budget that is set within AdWords, allowing a company to only spend what they are prepared to spend.
If an advertiser wishes to use an external marketing agency to manage their AdWords account, there will be an additional management fee, usually charged on a monthly basis on top of what they are spending with AdWords. There is an additional cost, however it can be highly beneficial to let an agency set up and manage the accounts as these agencies will have enhanced knowledge in this area with most PPC consultants monitoring and maintaining campaigns on a daily basis, they should be able to spot issues and ultimately provide better results whilst saving advertisers a lot of money in the long run.
Finding a Marketing Agency
There are many marketing agencies that are part of the Google Partners program. To be part of this program, agencies need to prove their knowledge and expertise by taking rigorous exams annually in all areas of Google AdWords such as Search, Display, Video, Shopping and even Google Analytics. A Google Partnering agency will also attend events held by Google where they will meet with Google staff to find out about the latest news and upcoming technology and report this back to the clients.
If an advertiser chooses to manage their own AdWords account, a lot of help and advice can be found on the internet such as the Google AdWords Community where there is expert help and questions answered by top contributors as well as Google staff.