Google AdWords Remarketing Lists for Search Ads otherwise known as RLSA's, give you the opportunity to target users that have previously visited your site with unique adverts, offers, call to actions, landing pages and much more. These users have already visited your website, they may be shopping around for best pricing, they may have added products to the cart, they may have viewed certain products, all of which can be segmented within remarketing lists.
The ability to bid more aggressively for users that viewed high value items or added products to cart, but didn't purchase, can be remarketed to with specific ads to incentivise them to return to the site and convert. For example an ad can be served that displays a 10% discount or promotes Free Shipping.
You may also want to target different keywords such as broader search terms for people that have previously purchased from your website and are now looking to purchase again. Having this data available to you and the option to create custom ads for these users is certainly a powerful tool which you should be taking full advantage of.
How to Configure RLSA's
The addition of RLSA's to existing campaigns and ad groups within your Google AdWords account is available in any account. We would recommend setting a new campaign up for easier management and for better control.
To set up RLSA's, simply navigate to your 'Shared Library' on the left hand navigation within your AdWords account and then select 'Audiences'. If this is your first remarketing list, you should see the following: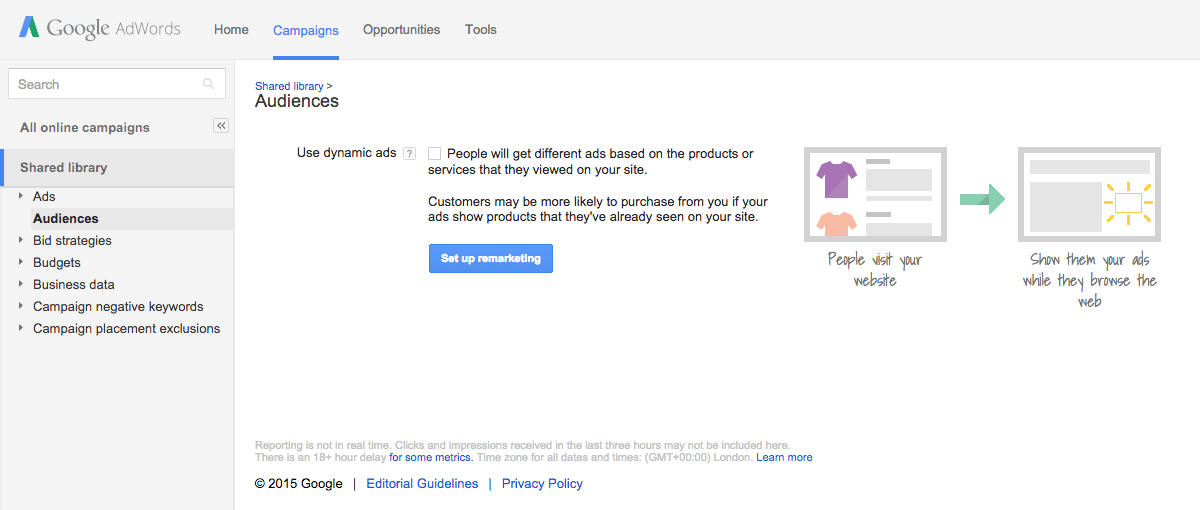 Click on the blue 'Set up remarketing' button. From here AdWords will generate the remarketing tag which will need to be implemented within your sites markup on every page, right before the closing </body> tag within your website's markup: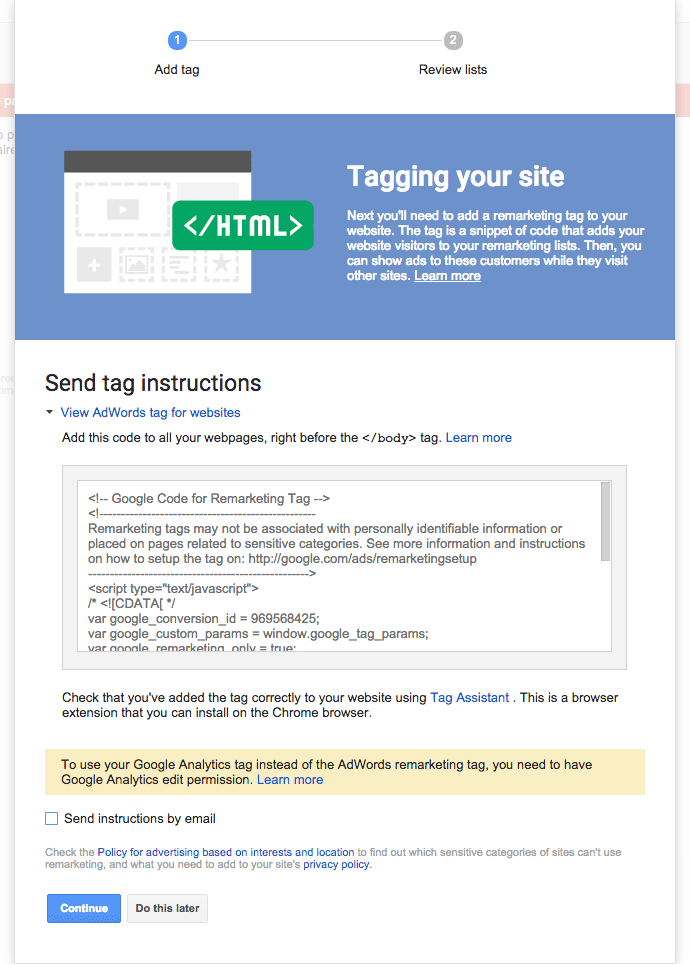 To ensure that the code has been implemented correctly, the Google Assistant is available to test this. The Google Tag Assistant is a Google Chrome extension and it will alert you of any issues with the code / implementation and is available here: https://chrome.google.com/webstore/detail/tag-assistant-by-google/kejbdjndbnbjgmefkgdddjlbokphdefk.
From here AdWords will automatically create a remarketing list for 'All Visitors'. At this point you won't have any data in this list, but once it starts populating, you'll be able to use this and other custom remarketing lists that you can be defined within the 'Shared Library' > 'Audiences' section by clicking the red '+ Remarketing List' button: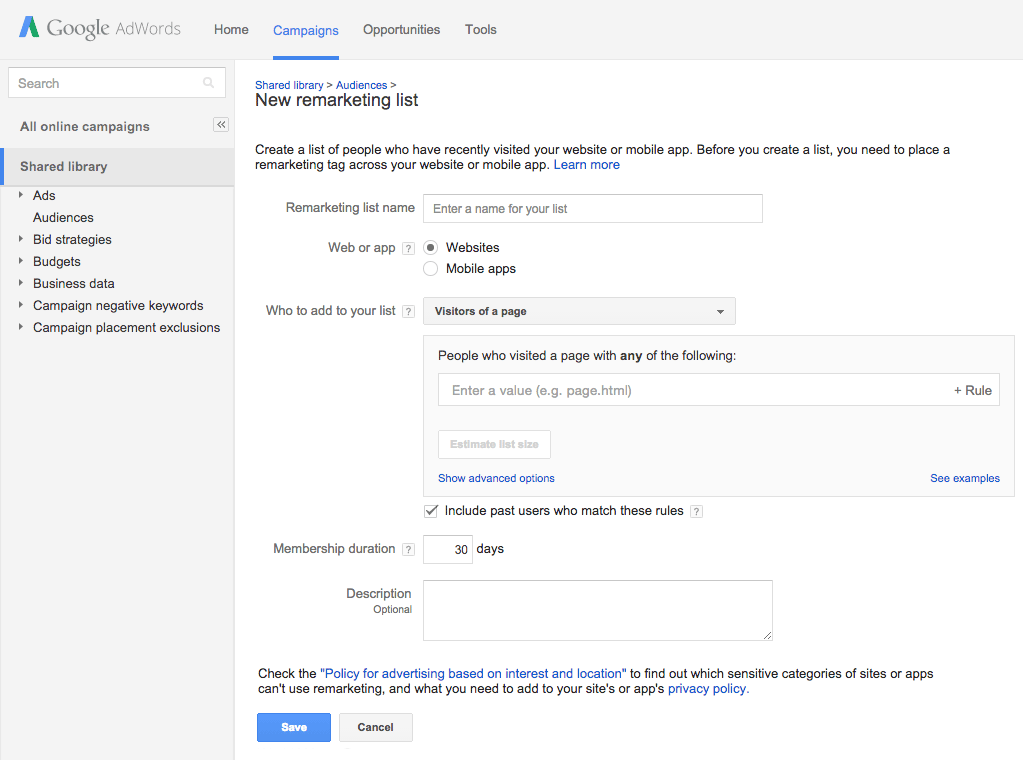 The ability to create custom lists is what makes this a great feature. As discussed above, you'll be able to create rule based lists for users that land on certain products, viewed your contact details, added products to cart, viewed your special offers page and much more. If a user does visit your special offers page, it might be an idea to show unique adverts to these users with special offers, deals and a USP's such as free delivery as these may be price conscious users looking for a great deal.
Now you've set the remarketing lists up, simply create a new 'Search Network Only' campaign:

Now you've set up your new campaign, simply go to the 'Audiences' tab and then click on the red Remarketing button:

From here you'll be able to select the ad group you wish to apply the RLSA's to: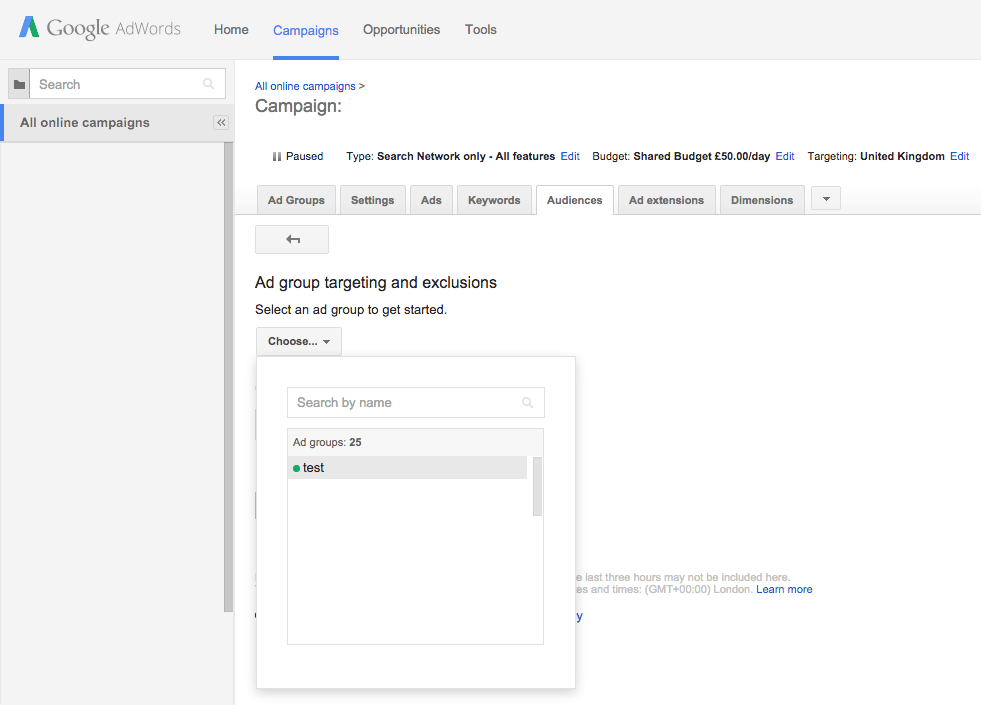 Once you've selected the ad group, you now need to apply one or multiple remarketing lists to it and save it: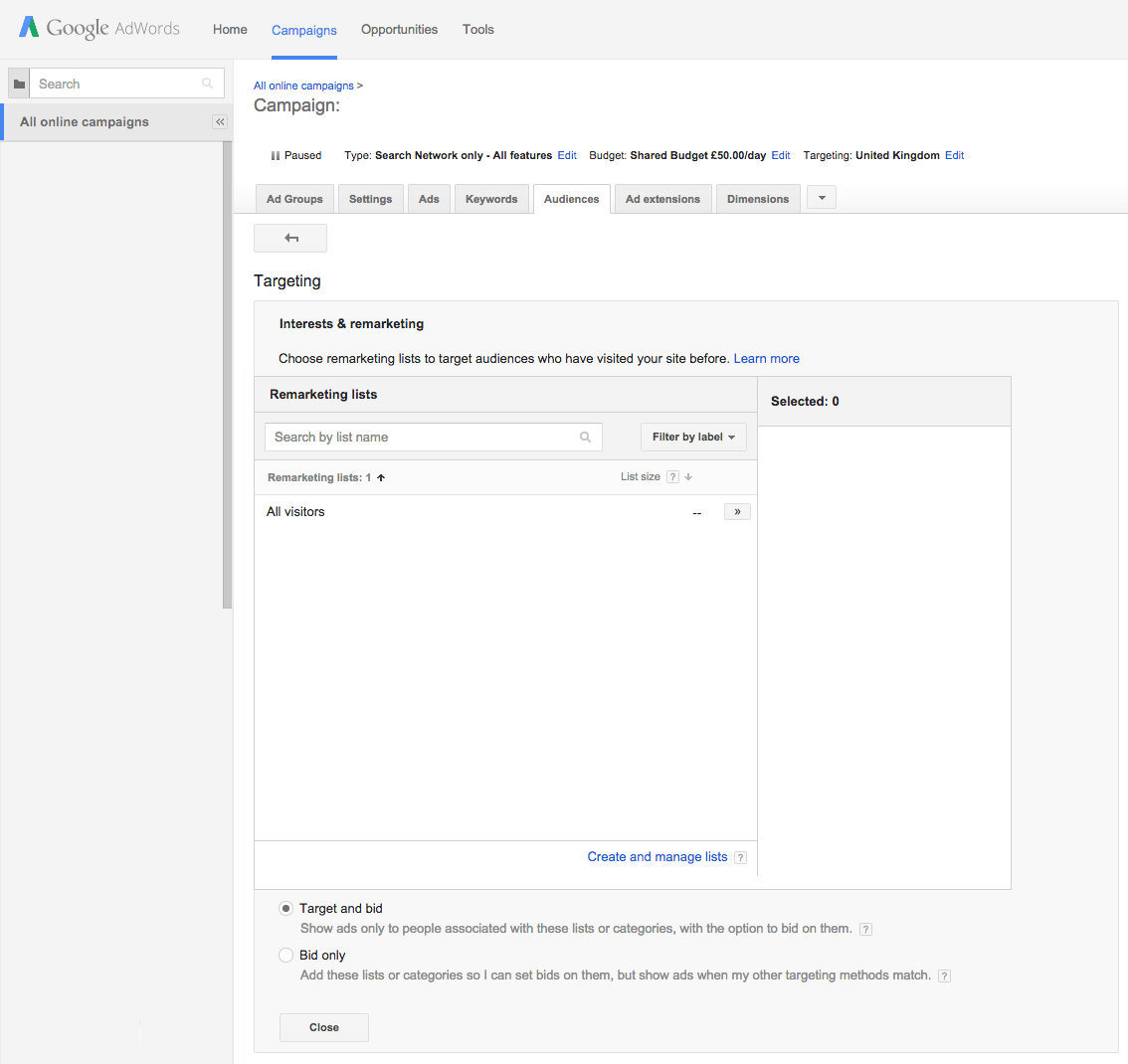 In this new campaign you have just created, you can now set new adverts up, add / remove certain keywords, define bids and budgets as required, edit targeting settings and any other customisations you wish to make.