On August 27th, Google began rolling out structured snippet ad extensions: advertiser-provided structured information that show with your text ads. This is another great extension that you can take advantage of as ad extensions typically increase click through rates, provide further information to the user, whilst reducing your cost per clicks as they are now an important factor in your Ad Rank.
The below image is an example of structured snippets in action:

Setting up Structured Snippet Extensions
It's really simple to set these new extensions up, simply go to the Ad Extensions tab:

Click on the drop down menu and go to structured snippets: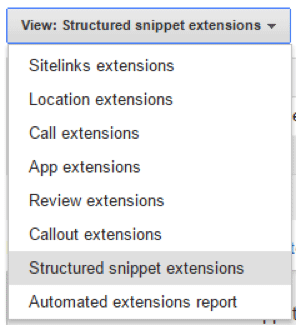 From here, clicks on the red + Extension button:

Now go to the New Structured Snippet button as seen below: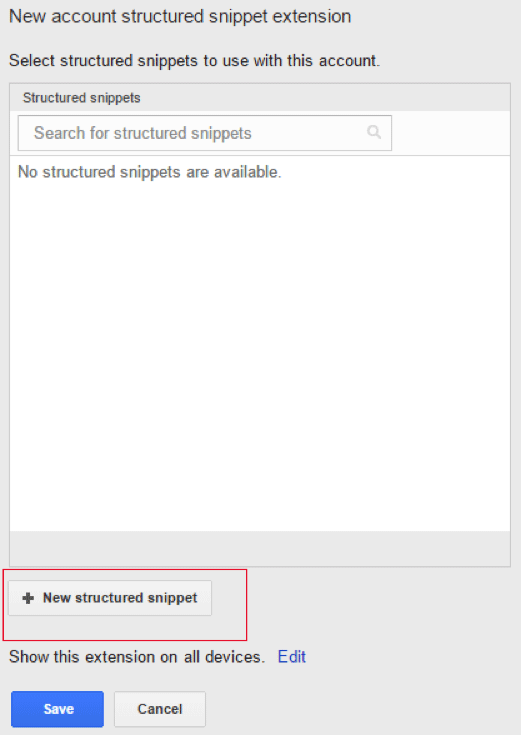 The structured snippet extension has predefined headers which an advertiser can select from:
Amenities Examples: WiFi, Swimming Pool, Gym
Brands Examples: Nest, Nexus, Chromebook
Courses Examples: Creative Writing, Data Structures, Linear Algebra
Degree Programs Examples: Business Administration, Accounting, HR Management
Destinations Examples: Paris, Berlin, London
Featured Hotels Examples: Luxury Inn, Alpine Lodge, Lakeside Hotel
Insurance Coverage Examples: Third Party Liability, Collision, Umbrella, Car Rentals
Neighbourhoods Examples: Financial District, SOMA, North Beach
Service Catalogue Examples: Oil Change, Smog Check, Tire Alignment
Shows Examples: The Voyage, Knights, American Dancer
Styles Examples: Chukka, Cowboy, Combat, Chelsea
Types Examples: T-Shirts, Mugs, Bags, Pens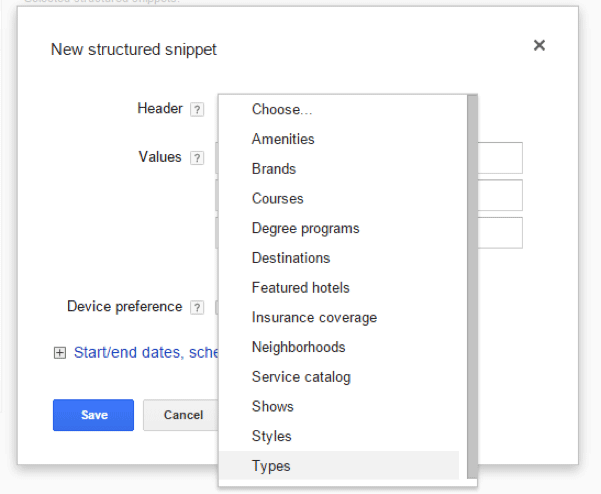 Simply add your values as required and click on the blue Save button as seen below: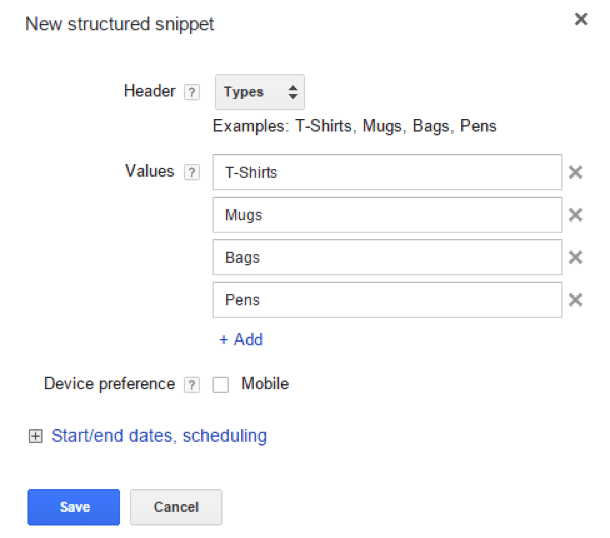 From here, your structured snippets will go under review, once approved they will begin to show when they are eligible.