Google have announced their latest AdWords feature – price extensions. Ads now have the ability to showcase some of the advertiser's prices for relevant services and products, making it easier for users to identify charges before clicking through.
Qualified Clicks and Increased Conversions
Price extensions appear as multiple rows with one item per row. Here you'll be able to incorporate your product or service along with a slight description, cost and of course a link to the relevant landing page.
This should hopefully give a searcher most of what they need to know right off the bat to decide whether they are interested. This should theoretically result in more qualified clicks from people who show a stronger chance of converting.
Price Extension Eligibility
There are a few points to be aware of if price extensions sound like something you'd like to implement.
They are currently only available on mobile
The only language to be on offer at this time is English
Only ads occupying the top spot are eligible to use the feature
If these parameters are no hindrance to your campaign then you're good to get started. The feature has begun rolling out already so you can get looking into them right away.
How to Set-Up Price Extensions
Price extensions are available at account, campaign or ad group level. To implement them, head over the Ad extensions tab in AdWords and select "Price extensions" from the drop-down menu. From here you'll be able to access the setup window for a new extension.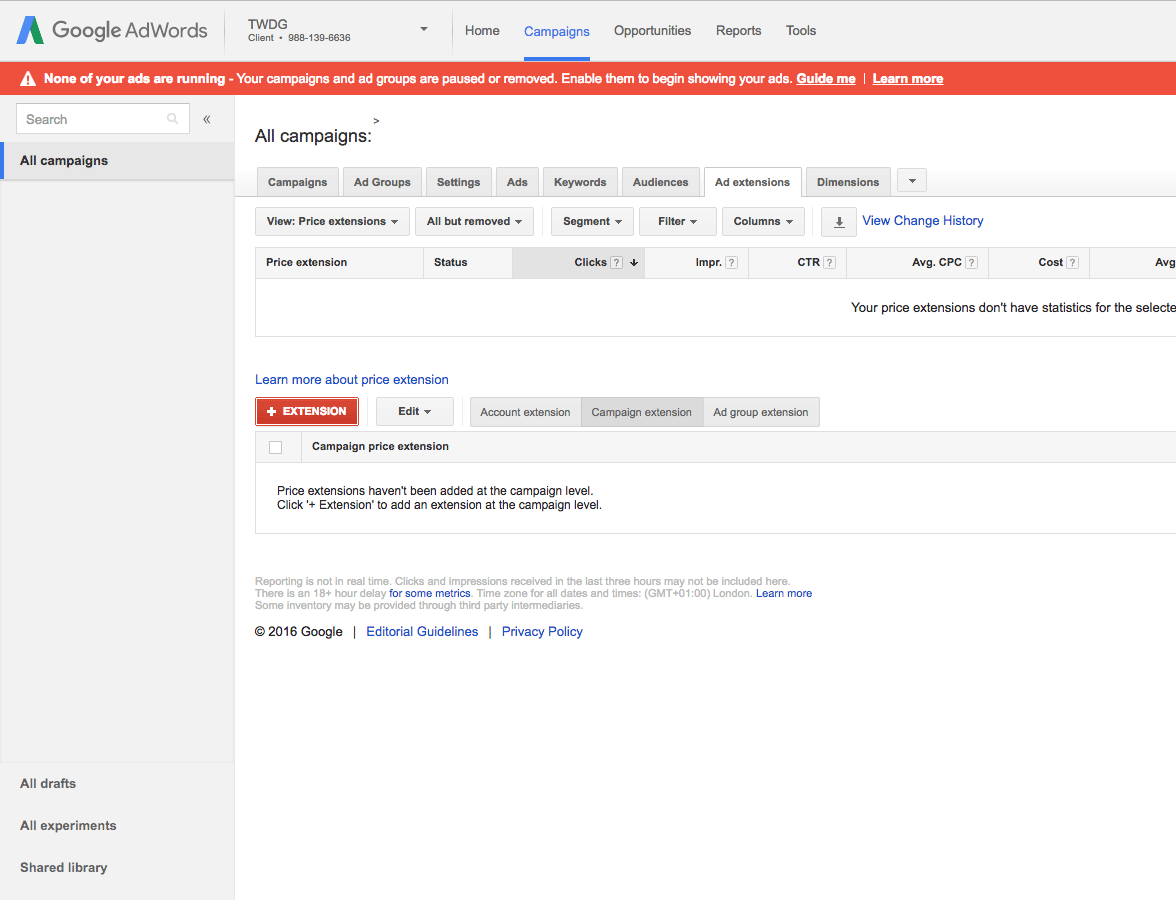 As seen in the screenshot, you simply add a header (which will act as a clickable title), description (of up to 25 characters), price, and a final URL. The final URL is the page that clicks will be directed to and doesn't have to be uniform with other links associated with your ad.
If you run special offers or time limited deals, you'll be pleased to know that you can schedule extensions, ensuring they're accurate at any given time and taking away the need to constantly update the prices shown in your ads.
There are a few other important details to take note of before attempting to initiate price extensions.
Although final URLs can be different from one another in each ad, they don't have to be. If your site doesn't have a product specific landing page, you can use the same one as another. Make sure it's relevant though.
Price extensions should be relevant to specific keywords in an ad group, this includes the "types of products or services being advertised". Say for example you run a sports shop and your ads trigger for "sport shoes", you don't want extensions for headbands or water bottles showing. You should instead be thinking of something like "mens shoes, womens shoes, childrens shoes" or different brands you have on offer. Don't forget, the price shown in your ad can be in "starting from" format.
There's a three price extension minimum and an eight price extension maximum. Google has suggested creating five or more which can be a bit troublesome if you're limited in the number of products or services per group
Increased Bidding and Cost-Per-Click?
As you can see, mobile ad extensions take up a considerable amount of room. Not only can there be just the one ad using the feature per page, it also puts the owner in a very prominent position.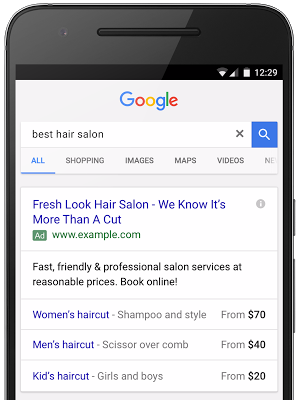 This is probably going to ramp up bidding and CPCs as it is likely to encourage even more competition for the coveted number one place and the price extensions that come with it. Keep an eye on your budgets if you start to see this happening.
A Hopeful Future
There's no doubting that price extensions could be the next big thing as far as retailers and service providers are concerned. Offering an instant way for prospective customers and clients to see both your services and fees, a higher number of qualified leads could potentially be visiting your site.