Google recently announced a new feature for use in your AdWords, ppc campaigns that can be found within your Google Merchant Center account. This new feature is named Merchant Promotions. Merchant Promotions allow you to include a special offer alongside your Product Listing Ads (PLA). Google states this additional feature will "Boost your click-through-rate by highlighting your listings and Increase conversions by giving shoppers a reason to buy now". There will be no extra charge for including promotions alongside your PLA's.
An example of Google Merchant Promotions that we have implemented on a clients ppc campaign are shown below.

Please Note: At time of writing, Merchant Promotions is only available in Australia, France, Germany, India, UK and US.
Setting up Merchant Promotions
Firstly you'll need to apply for access to this feature using this insertion form: https://services.google.com/fb/forms/merchantpromotionsform/. Once you have registered your interest to have access to Merchant Promotions, Google will review your application and contact you within 1-2 weeks. Please ensure you have an eligible Merchant Center Account, for information on eligibility, view the guidelines here: https://support.google.com/merchants/answer/4588748?hl=en.
Once approved (you should have received an email confirming this) you simply need to sign into your Merchant Center Account. Once signed in you should see a link within the menu named Promotions which will be on the left hand side as seen below.

The following link provides further information regarding the approval process: https://support.google.com/merchants/answer/4588464?hl=en.
Once you've located this, simply click on the red +PROMOTION button.

From here you can define the promotion you would like to display. There is a minimum discount of at least £5 or 5%. Further information can be found on Google's policy requirements page: https://support.google.com/merchants/answer/2877565?ref_topic=2877465.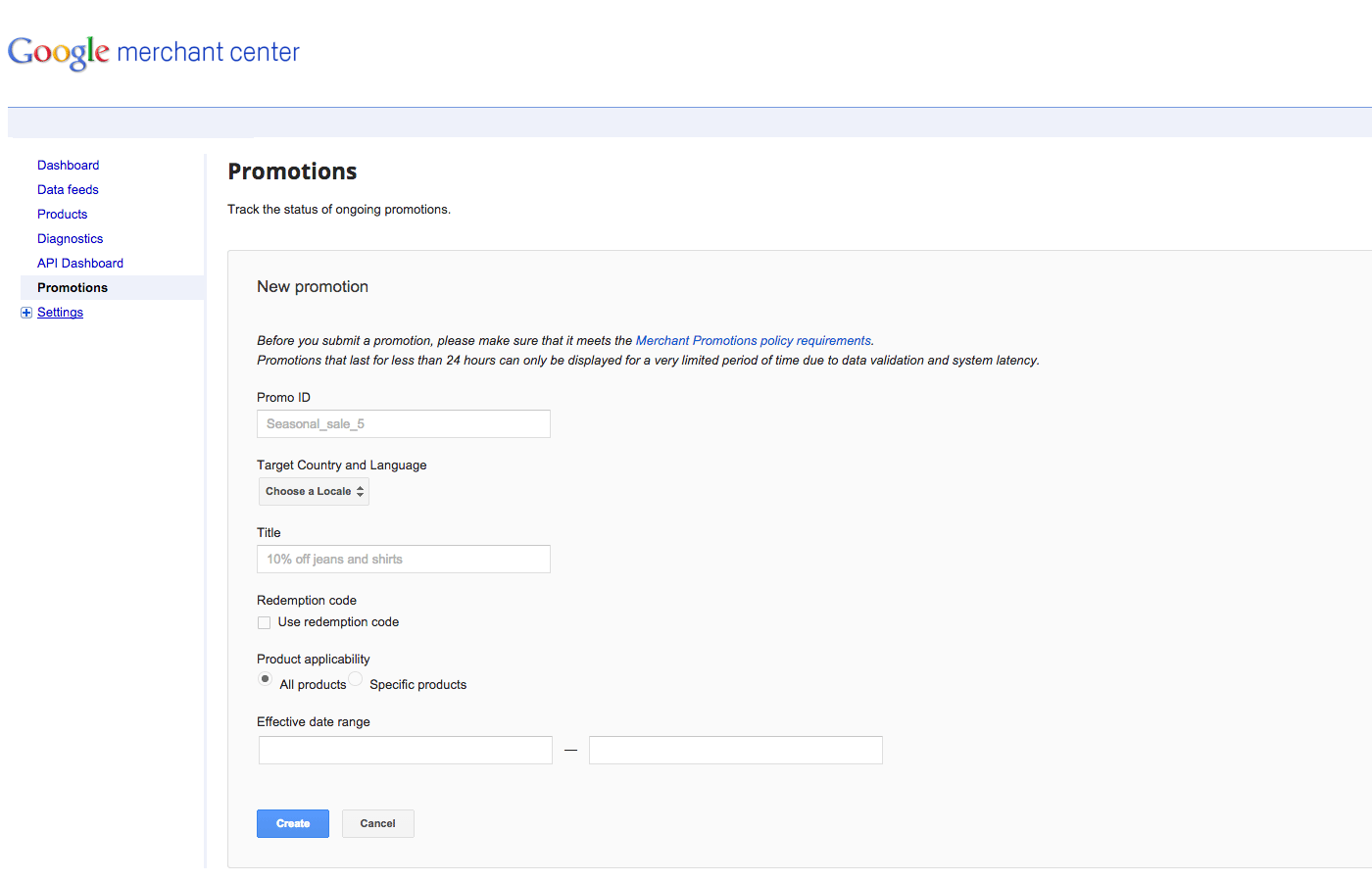 After you've created your promotion, Google will review this and once approved your promotion will begin showing alongside your Product Listing Ads.
The Results
Including promotions alongside your PLA's is a great way to take advantage of the ad space you are already paying for and at no additional cost, so it makes sense to take the time to set this up and implement it where possible. I feel the ads are more noticeable than ads without promotions and the data backs this up as our CTR increased by 9.31% whilst our CPC reduced by 4.31%.
For further data on the impact that online retailers have seen from utilising Merchant Promotions in their AdWords PLA campaigns, this case study is a great point of reference.