What Is Yahoo Gemini?
In Paid Search expanding upon your campaigns and paid activity is often the key to success, by expanding onto other platforms you are able to reach an audience which you couldn't previously.
With this in mind, Yahoo have launched their own Paid Search platform. Yahoo Gemini is Yahoo's answer to a CPC advertising platform.
Gemini is a more feature rich version of the Yahoo Ad manager which was launched in January 2016. Yahoo's Ad Manager was a very cut down CPC advertising platform in pretty much the same vein as AdWords Express, aimed at users who are beginning to explore pay per click advertising.
Yahoo Gemini is much closer to the Full AdWords system or Bing Ad's system.
How Can Gemini Help You?
Yahoo Gemini gives advertisers the opportunity to reach a new audience of users, Bing Ads has previously allowed advertisers to display adverts on the Yahoo network, but this is changing following the launch of Gemini.
Currently, all mobile traffic on Yahoo properties has moved from getting Bing ads to being served Gemini ads. This includes tablet traffic as well.
Easy Step by Step Campaign Set up Guide
Yahoo Gemini offers an easy to follow step by step guide to set up your first campaign.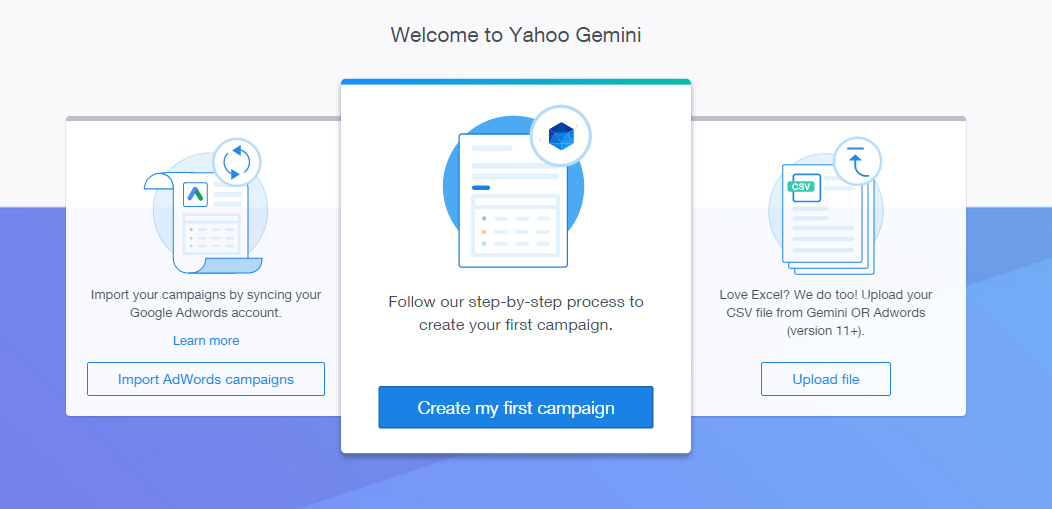 3 Main Campaign Objectives
There are 3 main types of campaign you are able to set up in Gemini. "Visit My Site", "Know My Brand" and "Download My App".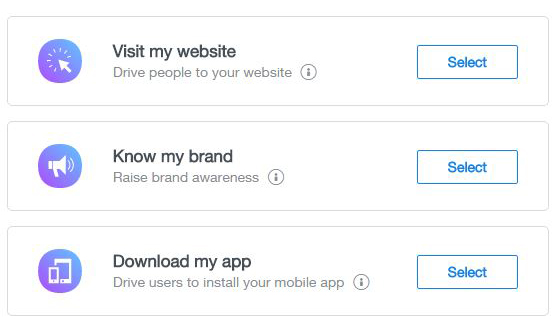 Visit My Website
This campaign type is intended to drive traffic directly to your site via Search ads and Native ads. This type of campaign is based around a Cost Per Click model, meaning each time a searcher clicks your advert you are charged a fee (similar to AdWords Search Ad's).
Know My Brand
This campaign type is perfect for brand building and brand awareness. Its intension is to gain visibility to your company brand. This is Yahoo's answer to display and video adverts in Google AdWords. This is based on a CPM model, meaning you pay each time your advert is displayed or your video is viewed.
Download My App
This is intended to help increase visibility of your App and increase app installs. Ad types available for these campaigns are "native ads" and "video ads". You are charged each time a user clicks your advert (CPC) or views your video (CPV).
Google Adwords Sync
If you already have campaigns running in Google Adwords you are able to import and sync your AdWords campaigns.
You are first asked to either import your campaigns directly by syncing to your Google AdWords account, or you are given the option to upload a CSV file of your AdWords campaigns (AdWords Version 11+).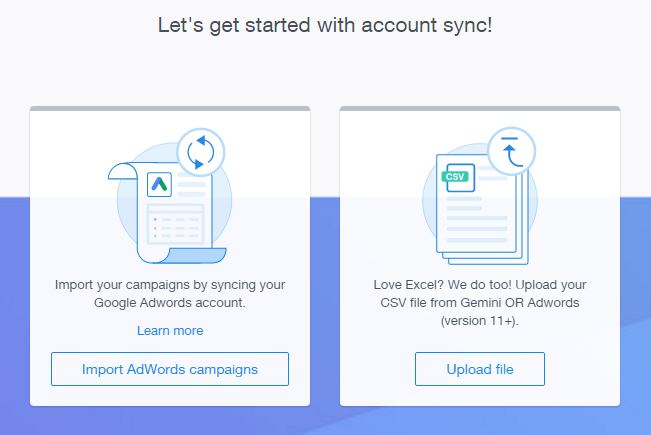 If you choose to sync your campaigns you will be asked to log into your Google AdWords account and choose which campaigns to import.
You are then asked if you would like to maintain the same budget and bids for the campaigns you import. You are also given the option to increase or decrease these values.
Sshared Library
As with Google AdWords there is also a "shared library" within Yahoo Gemini which offers Ad Extensions, Conversion Rules, Custom Audiences and Negative Keyword Lists.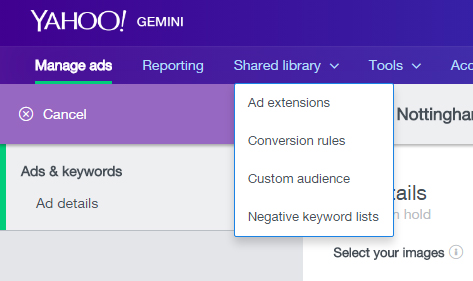 Ad Extensions
Currently the only ad extension which seems to be available is the "sitelink extension" which works in pretty much the same way as "site links" in AdWords. You are even able to define "Campaign wide" site links or even Ad Group level site links, the same as with AdWords. I can only assume Yahoo will be adding new / different types of ad extensions as time progresses.
Conversion Rules
This is where you set up your conversion goals and tracking.
Custom Audience
You are able to set up specific audience based on people who have visited your website(s).
Negative Keyword Lists
These act in pretty much the same way as you would expect from Google AdWords. Keywords added to these lists can be assigned to campaigns to prevent adverts from showing if a user used one of these negative keywords in their search query.
Yahoo Gemini Keyword Planner
Gemini also offers an easy to use "Keyword planner" which helps you identify keywords to target within your search campaigns, again this works in a similar way to the "Google Keyword Planner".
You are able to see average search volume for a predefined date range and also how competitive each keyword is.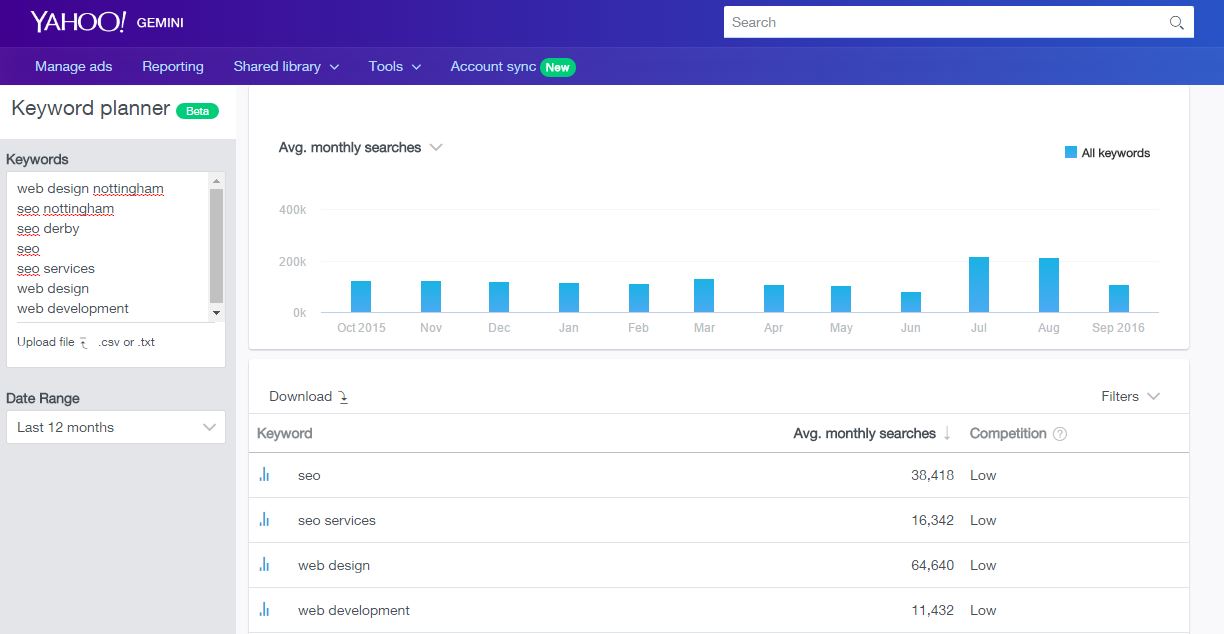 Retargeting / Remarketing Ads
After its initial release, Yahoo added the ability to retarget your users. The ability to create remarketing campaigns was added to Gemini's native and video ad types. You are able to target users who performed specific actions on your website.
Again this is a feature that a lot of PPC Consultants will be familiar with from Google AdWords.
Gemini's Version of Product Ads
Yahoo also gives advertisers the ability to run product ads in search and display on mobile devices, tablets and desktop machines. These product ads look similar to their Google equivalent.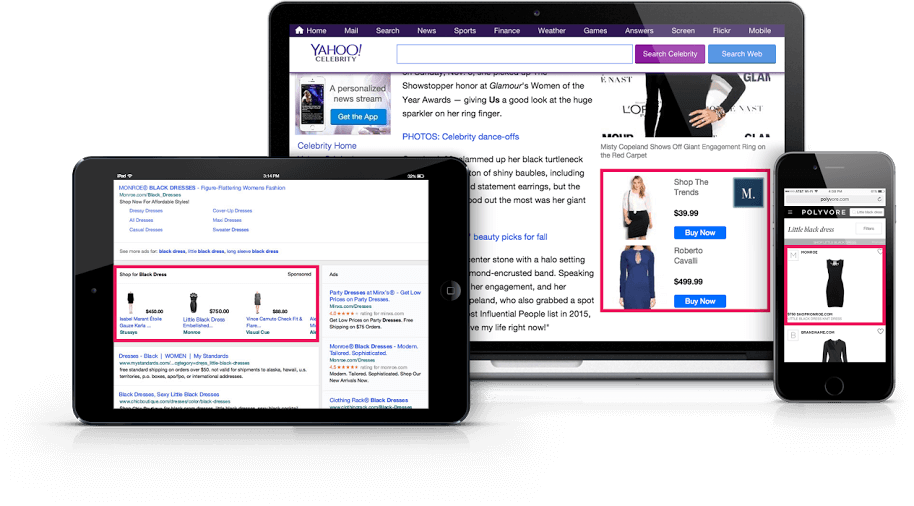 Further Reading
http://searchengineland.com/can-yahoo-gemini-succeed-in-search-sem-execs-weigh-in-236165
http://searchengineland.com/yahoo-launches-product-ads-on-search-and-display-235926