This September, MailChimp successfully introduced their newest expansions to automated email marketing features. Since rolling out new workflow and API functionalities figures have soared with an extra 350 million emails sent out between April and September and the email marketing company have looked at ways to improve the services they provide.
Voices, opinions and suggestions have been heard. Three new exciting and innovative additions to the MailChimp arsenal are now available in an effort to provide users with the platform their business needs to grow.
Workflow Queue Management
Workflow queue management provides an added sense of control to dictate the pace and regularity of automated emails. By using this feature, you can gain the power to increase customer engagement through experiment like testing.
As an example, you may wish to monitor how your engaged subscribers react to your automated emails before rolling your new campaign to a broader audience. You now possess the ability to trial your email with a select group of recipients to get an idea of how they will react. Once you have this information, you can make necessary tweaks to develop your workflow before including the rest of your subscribers.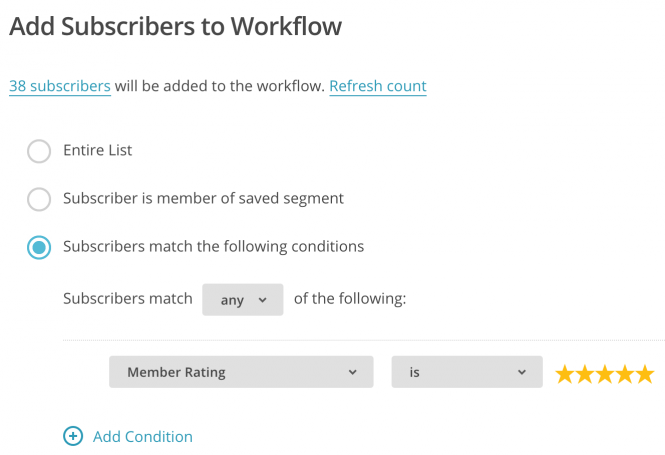 On top of this, two new merge tags – *|AUTOMATION:WORKFLOWREMOVEURL|* and *|AUTOMATION:WORKFLOWADDURL|* – have been assembled which will allow your subscribers to actively opt in and out from certain areas of your marketing list. They will still receive you mail, just the ones they want to instead of posts they in which they have no interest. A very useful tool as in the past, users would have to delete themselves from your entire mailing list if they wanted to opt out.
Individual Email Segmentation and Sending Times
Individual emails now have licence to include segmentation conditions. This means that MailChimp's ecommerce clients can restrict the sending of marketing emails to customers who have purchased from them mid workflow by using eCommerce 360. Recipients who have finished with certain email chains and ready to skip to the next mail series can be targeted with Goal, MailChimp's tracking integration system.
There are literally thousands of uses for this feature and the possibilities are limitless.

Rejection Follow-Ups
Last but by no means least, MailChimp have offered the ability to trigger automated emails to subscribers who passed on the latest newsletter or offer. Be careful with this automation feature though, you don't want to annoy your subscribers and have unsubscribe, block you or mark your address as a spam sender.
MailChimp have always maintained that they will always listen to suggestions and seek new avenues to explore when it comes to improving customer services. With this in mind, you can expect even more new and powerful features and additions in the near future.