Bing Places for Business is a platform to show local business listings within the Bing search engine result pages (SERP) and is very similar in its features to Google My Business. Again Google My Business shows local business information within the Google SERP.
A new feature for Bing Places for Business that has been announced within the last week is named "deals and discounts". This feature is very much what you would expect, it offers the ability to add a deal, discount, promotion or offer to your businesses Bing Places listing.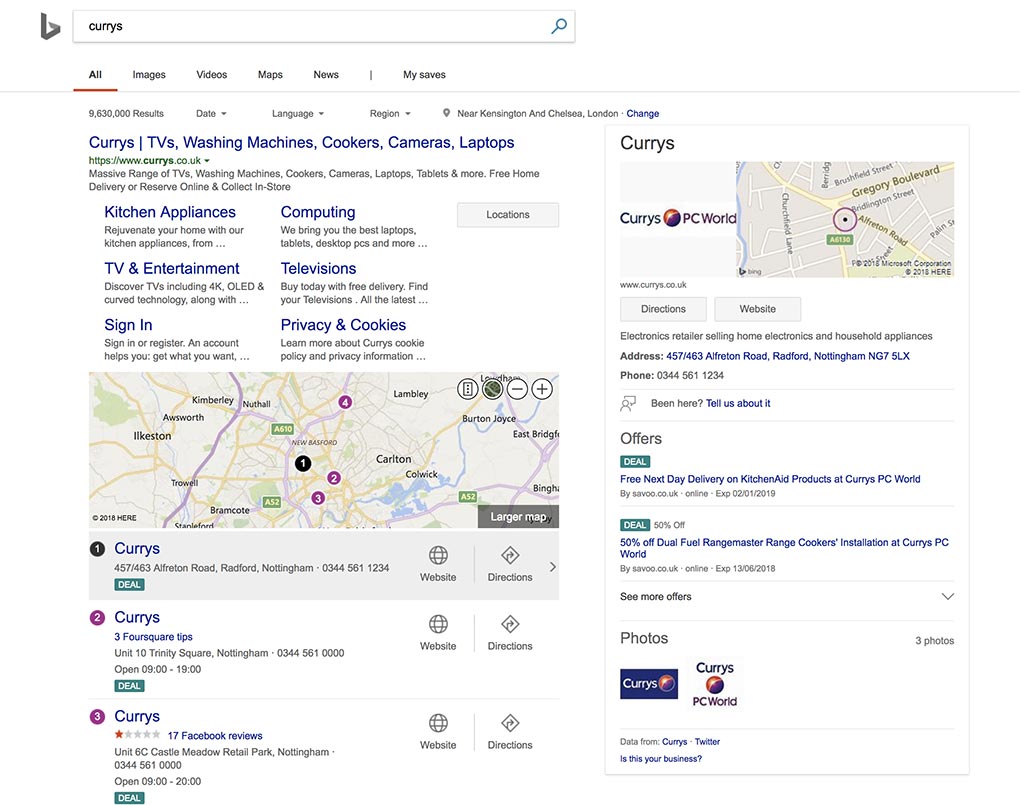 How to Add a Discount or Promotion
To add a discount or promotion to your Bing Places business listing, simply login to your Bing Places account and select the business that you wish to edit. On the business "my listing" screen you should now see an option for "Offers" on the published listings edit screen as below. Simply click "Add deal or discount" and configure the options as per your requirements.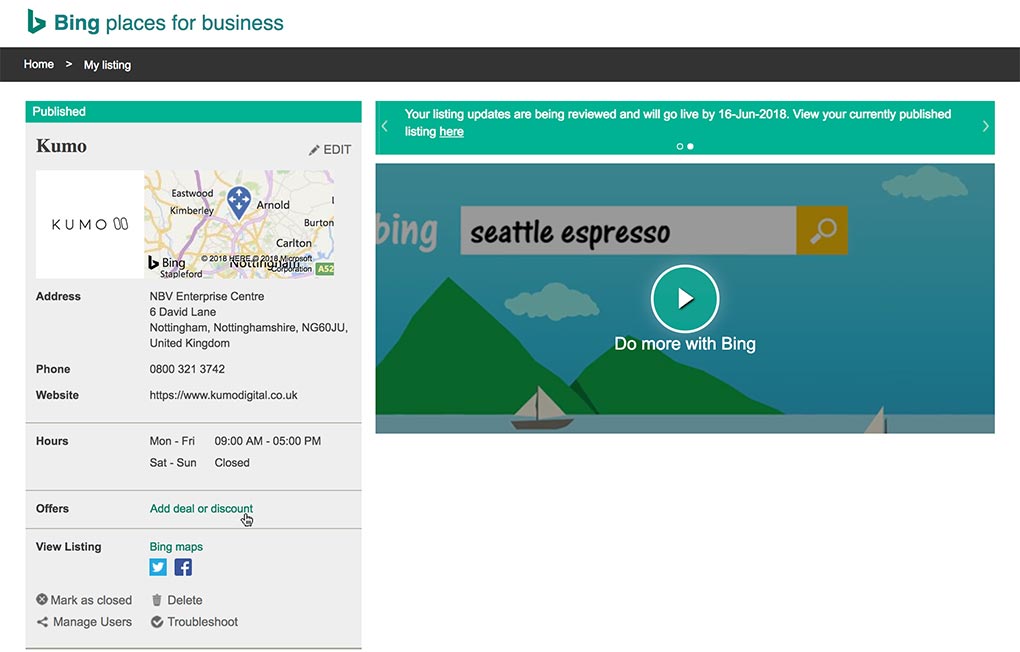 What Options are Available?
You are able to add a promotion with a lead title of "Free" or "Discount", following this selection there are multiple field sets that will be displayed to configure further aspects of the discount or offers title, based on each prerequisite fields.
Free Title Configuration Options
For the "Free" option, the following pre populated drop down menu options are available:
N products or services Free when some/no condition. e.g. Buy 3 Get 2 Free.
Nth product or service Free when some/no condition. e.g. Buy 2 Get 3rd Pizza Free.
Free trial/session/demo. e.g. 2-hour Free trial of dance class.
Free product or service. e.g. Free roof inspection, Free consultation etc.
Free shipping. e.g. Free shipping on all orders over $100.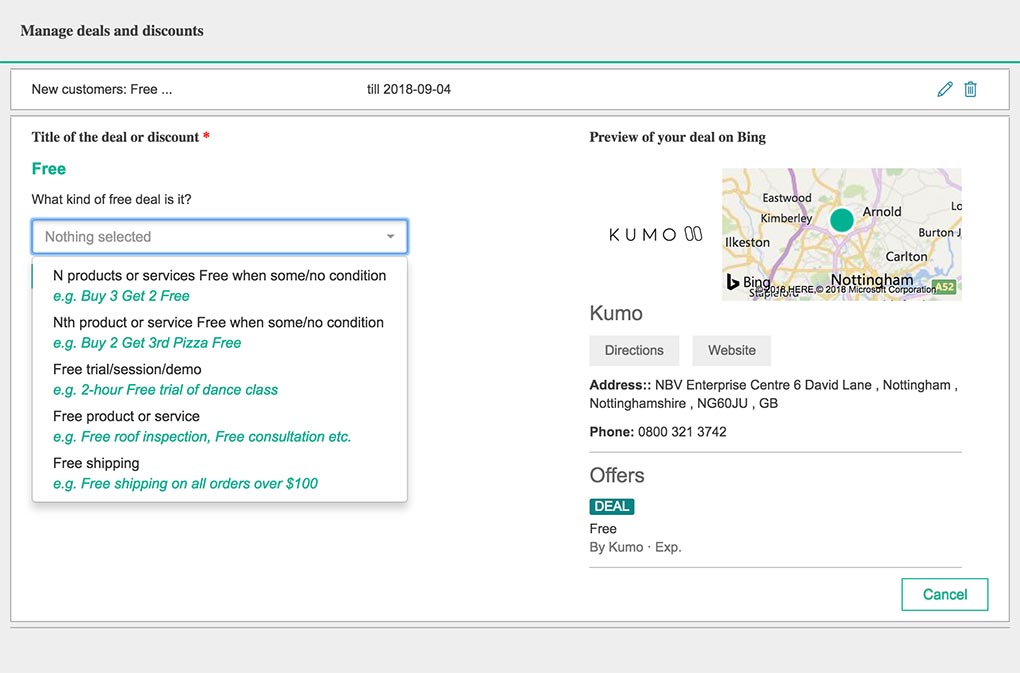 Following the selection of one of the 5 values above you will be presented with the following fields, relative to each option.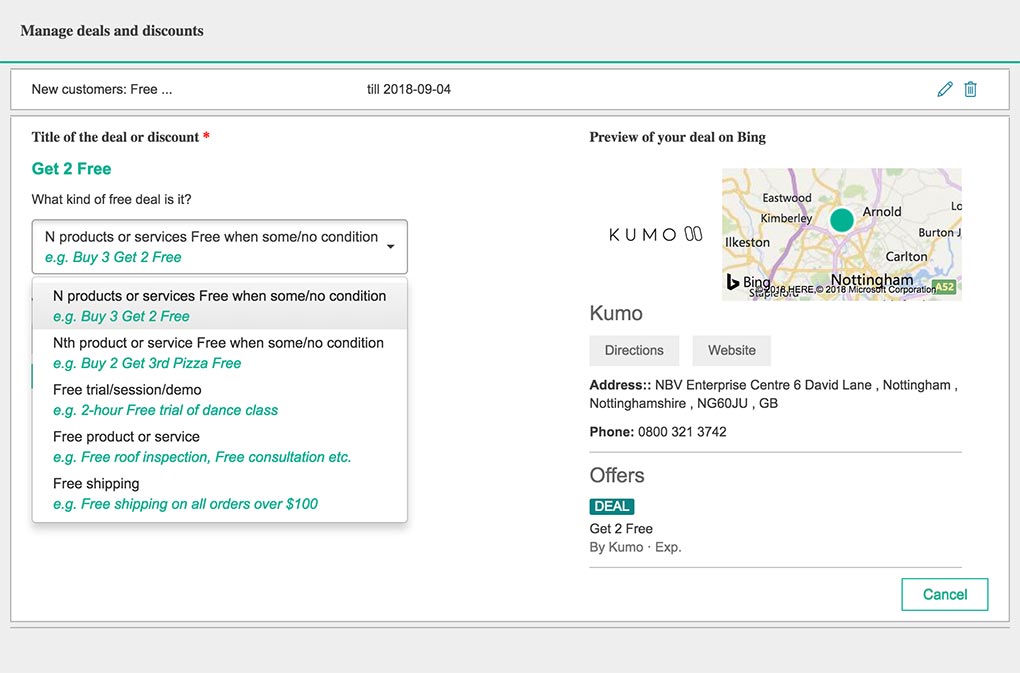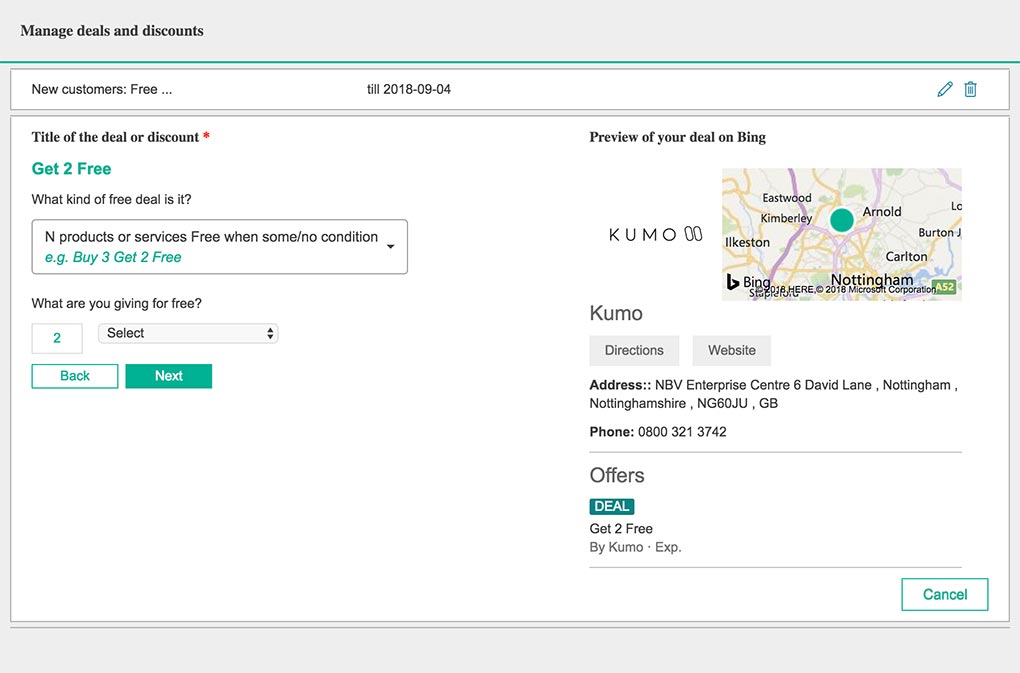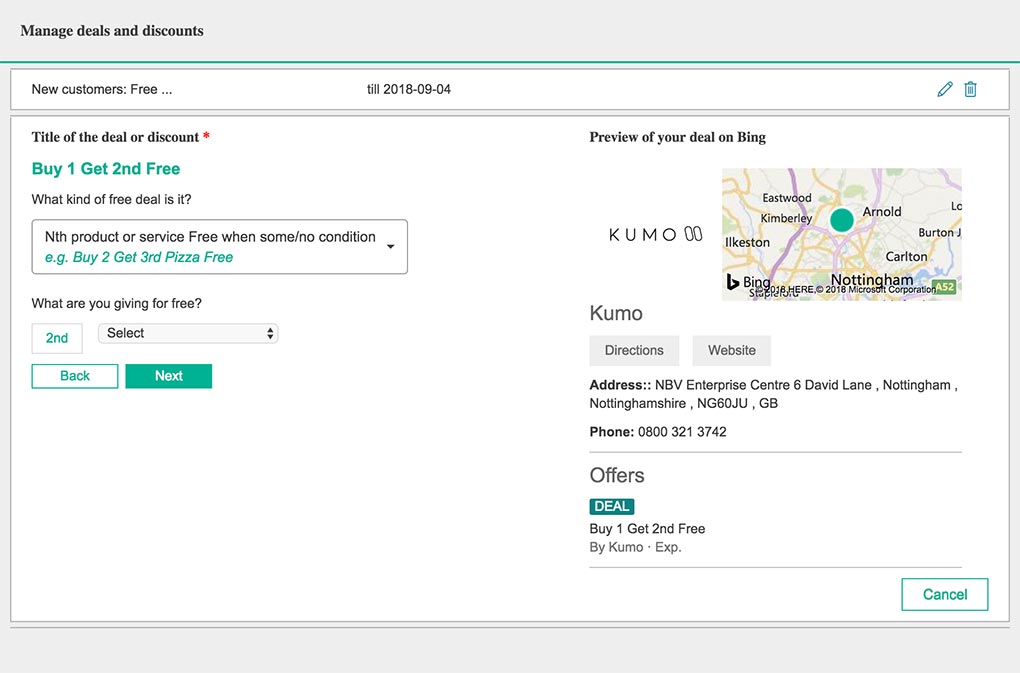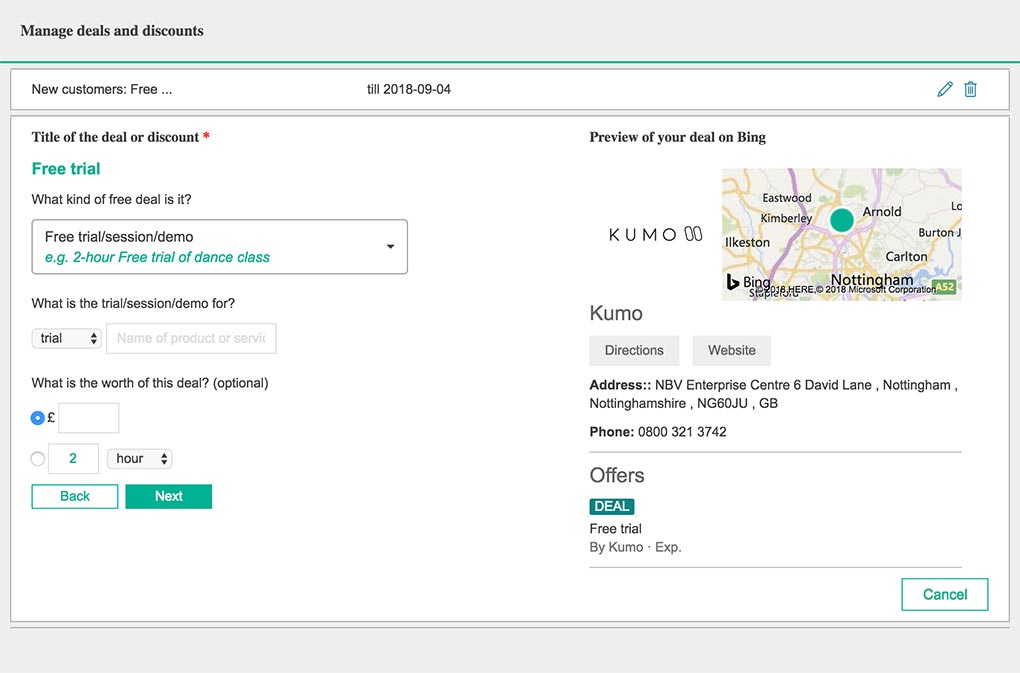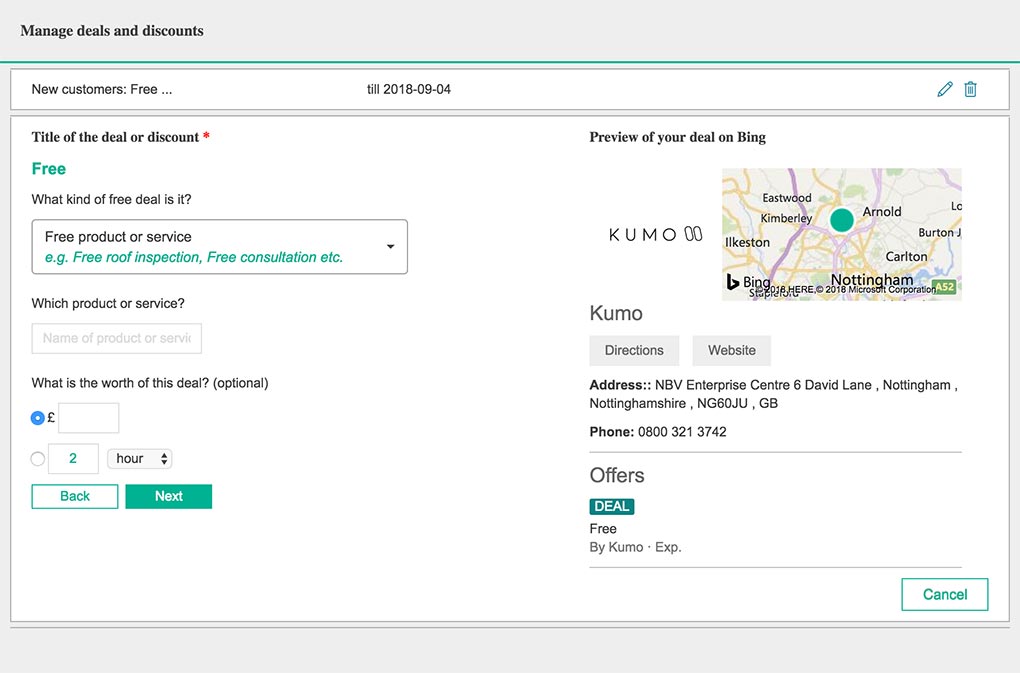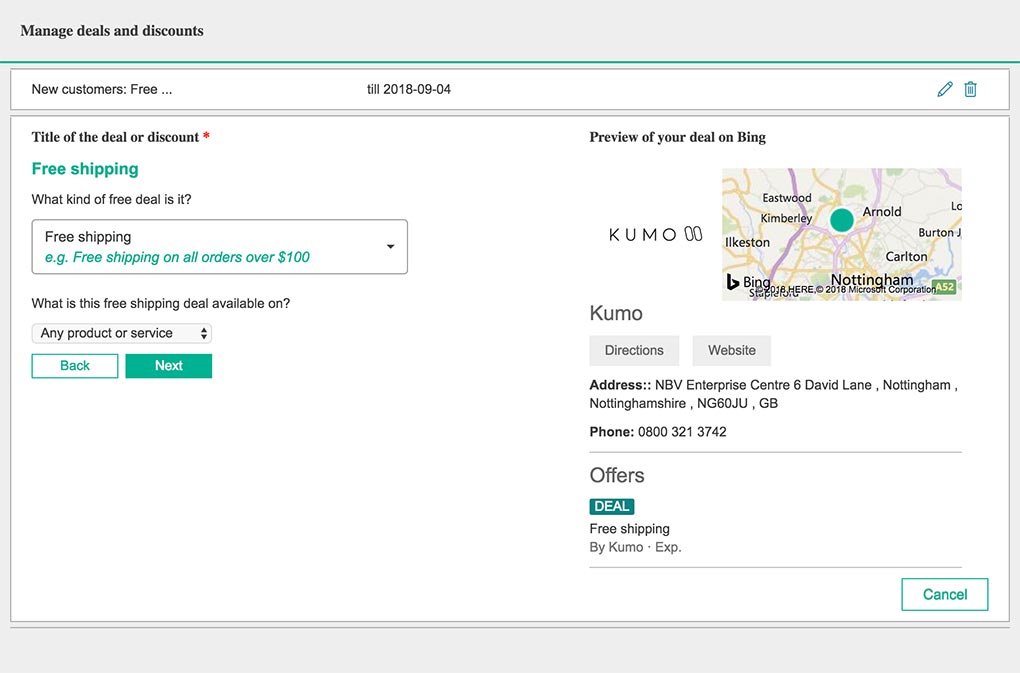 This is finally followed by the final set of options for each respective previous option selection.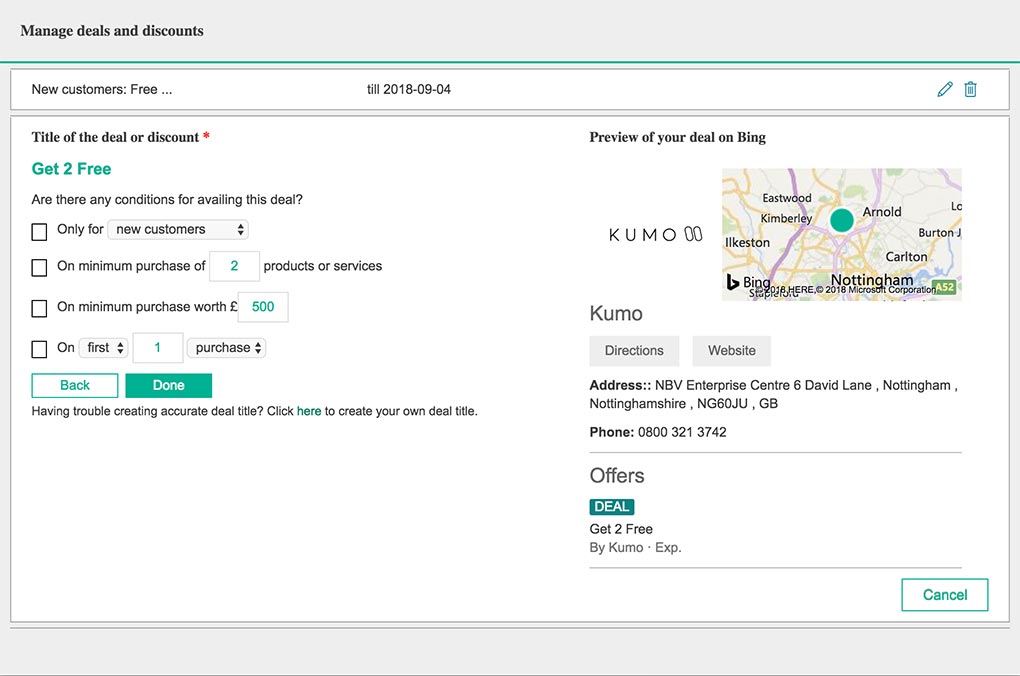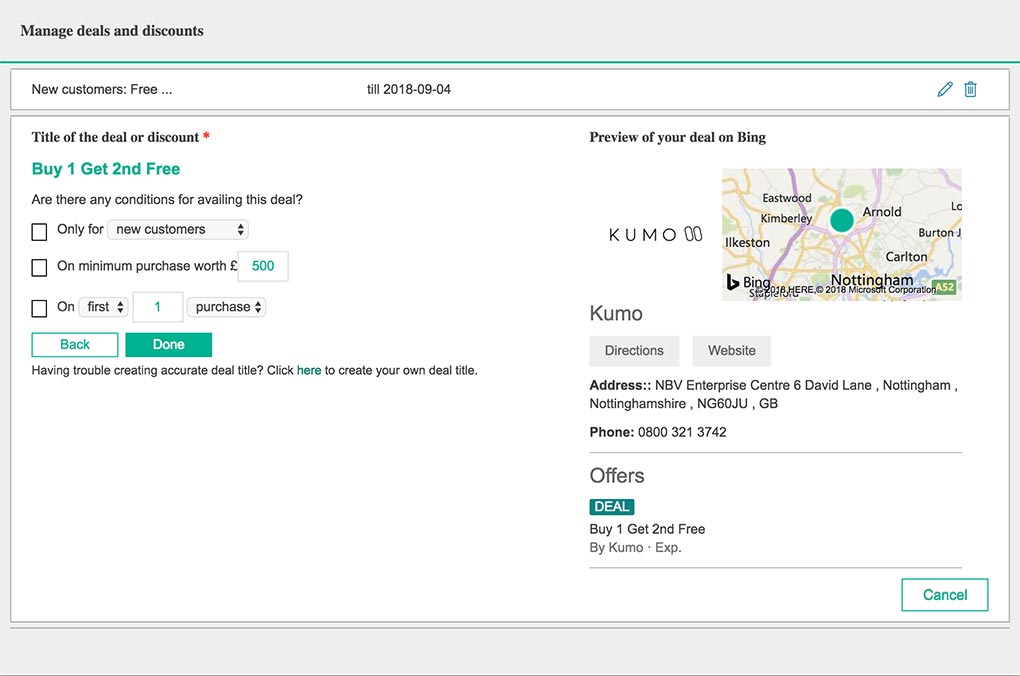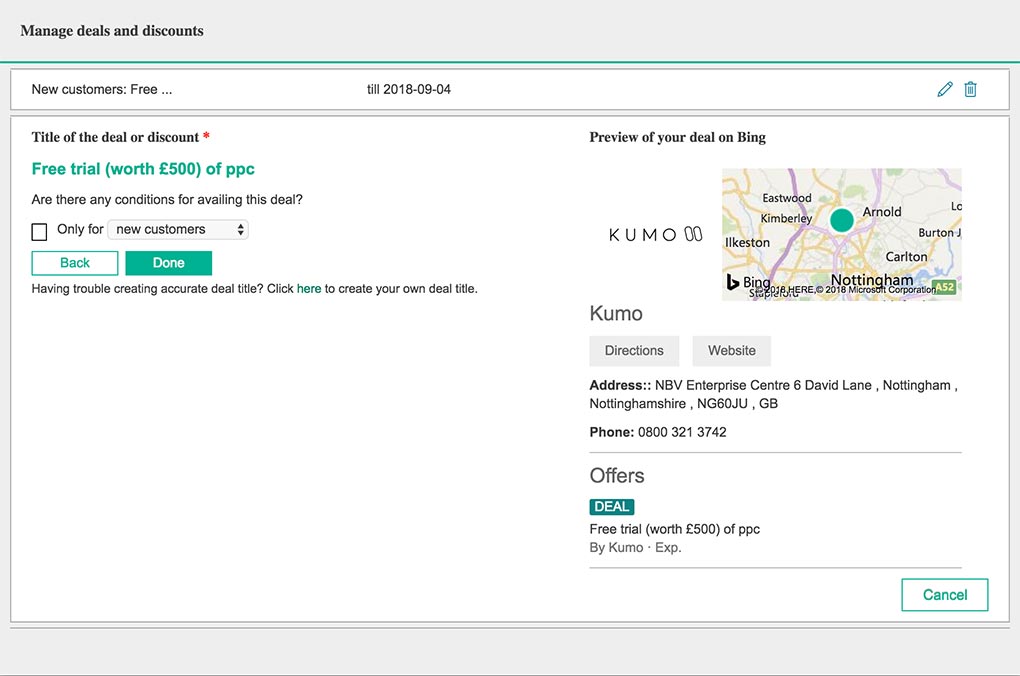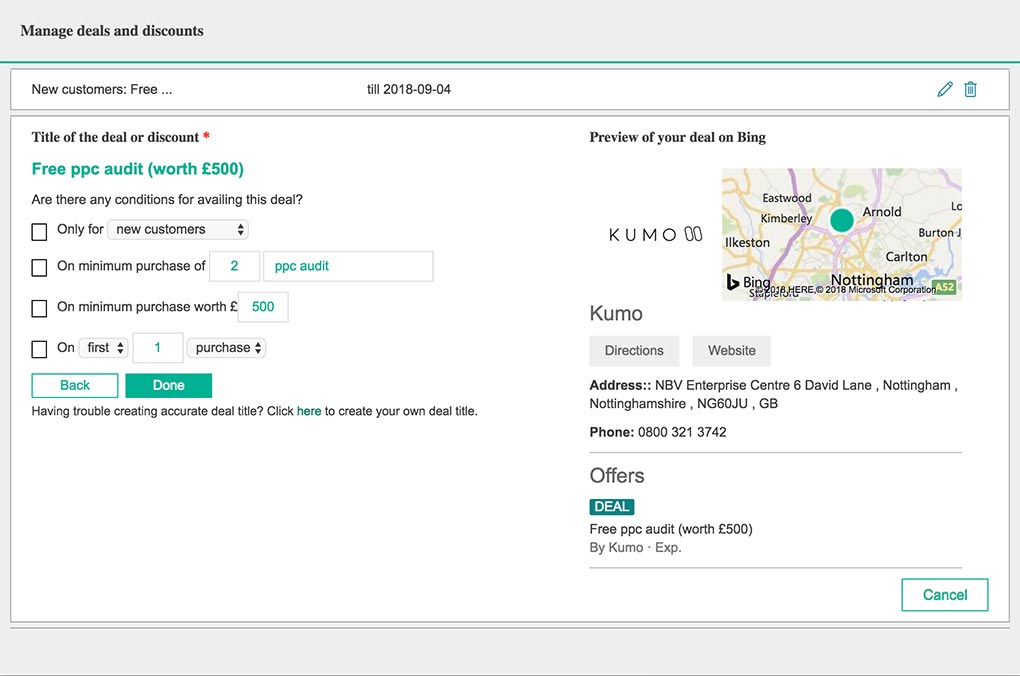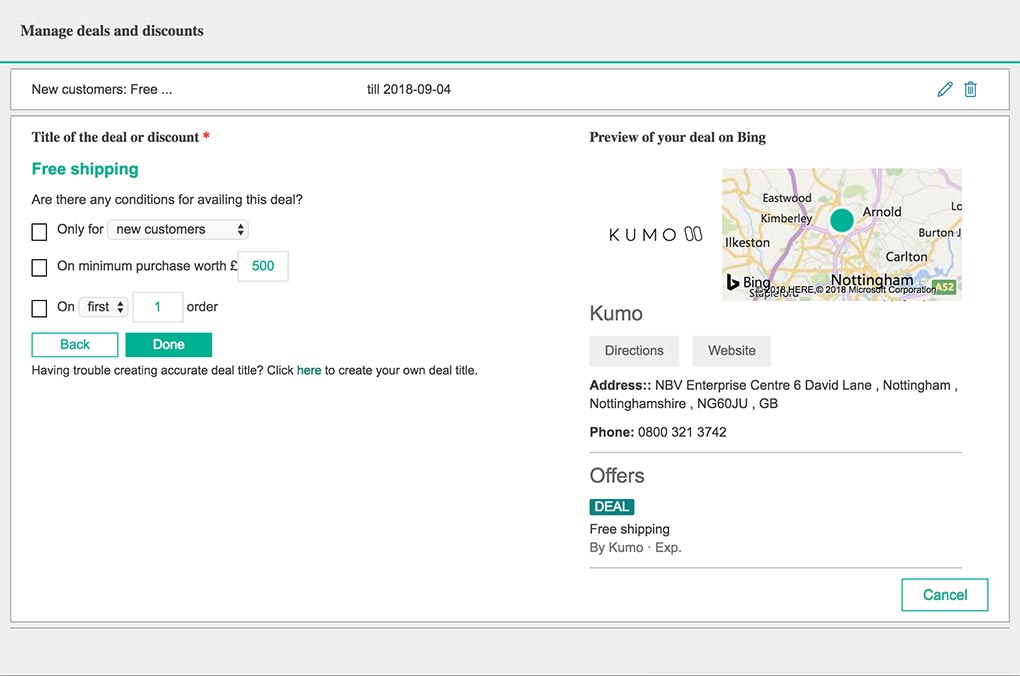 Once all of the fields have been configured, simply click the "Done" button and the promotion will then be saved and be eligible to show within Bing's SERP on your businesses local listing. Also a preview of the promotion will be shown within the editor window.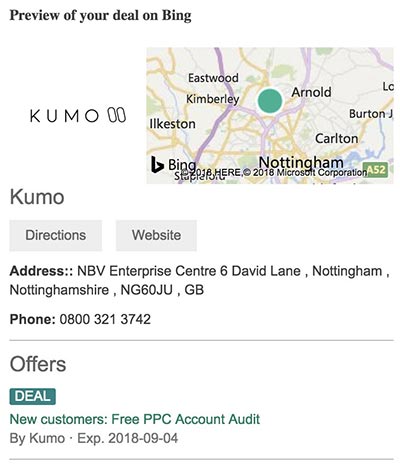 Discount Title Configuration Options
The "Discount" title configurator options on the other hand offer relative text fields that are dependant on the value delimiter option selected from a drop down:
% [text field] max up to £ [text field]
Up to % [text field]
£ [text field]
Up to £ [text field]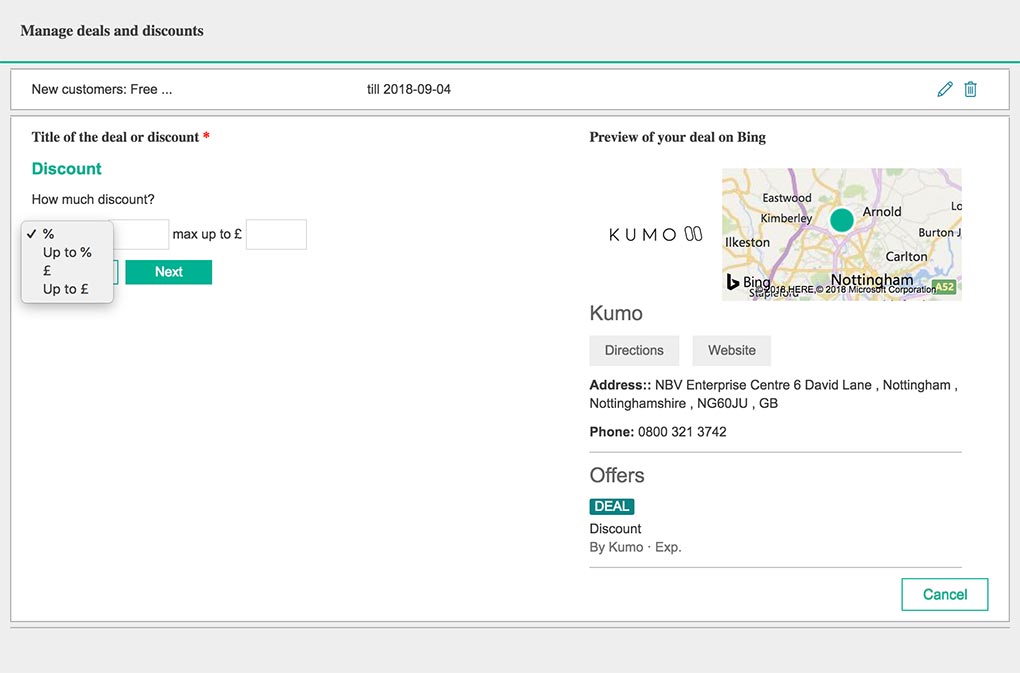 These options are followed by further options that specify what the defined discount is available for.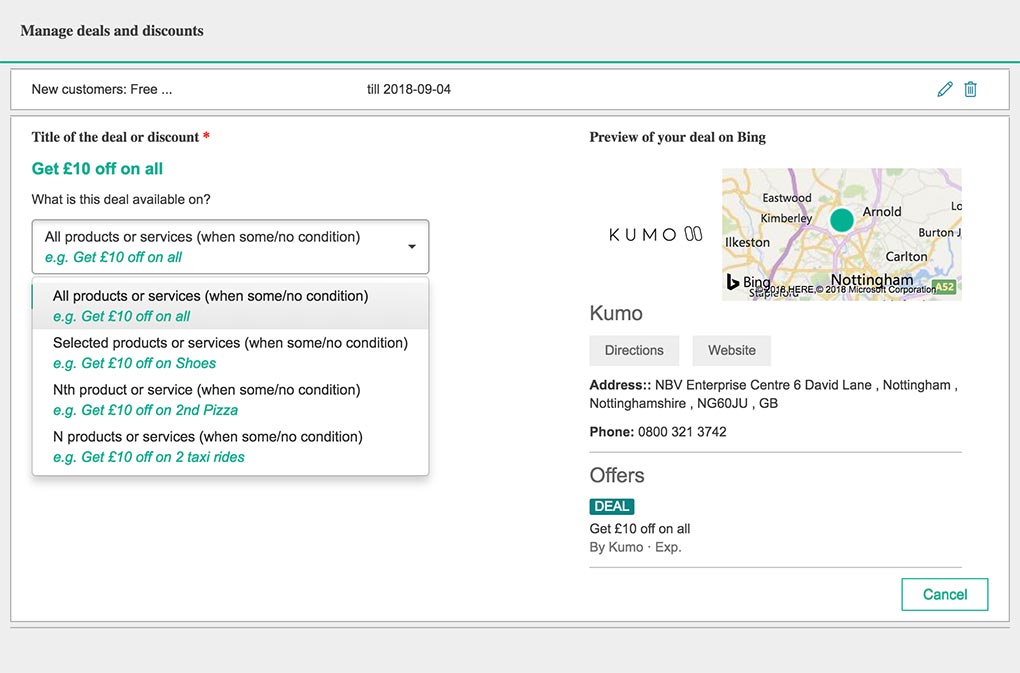 The final configurable options for the discount are any specific conditions that must be met for it to be available.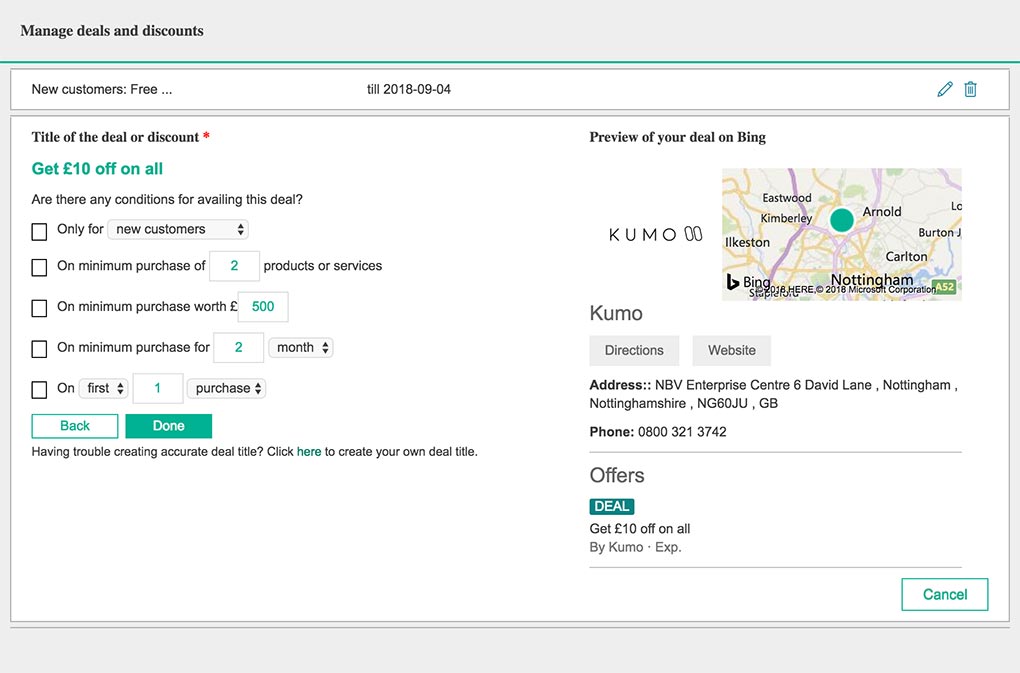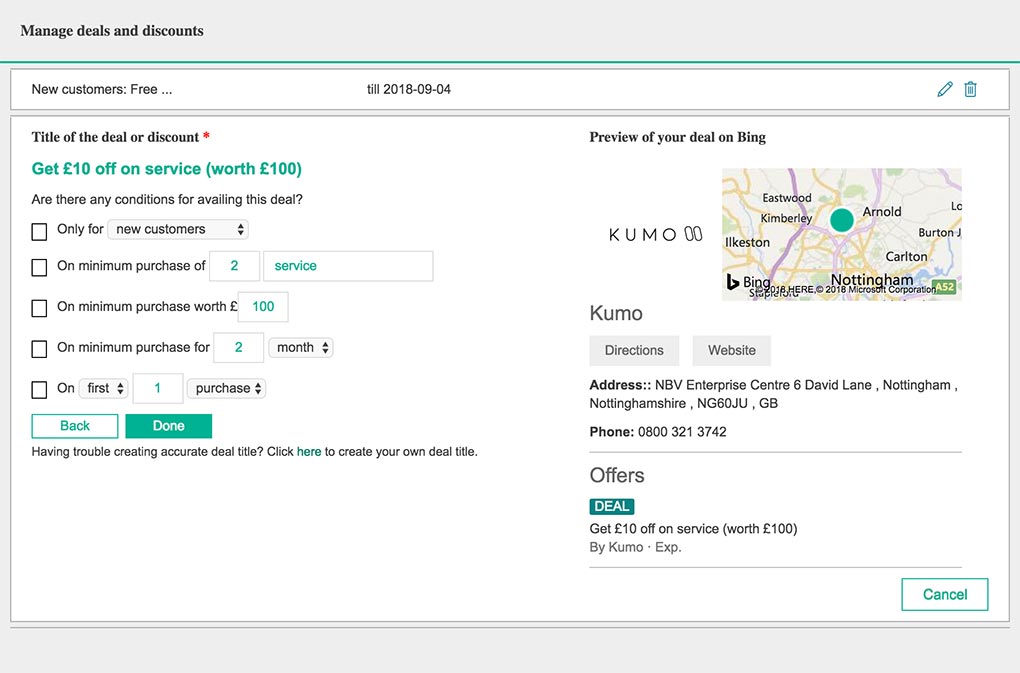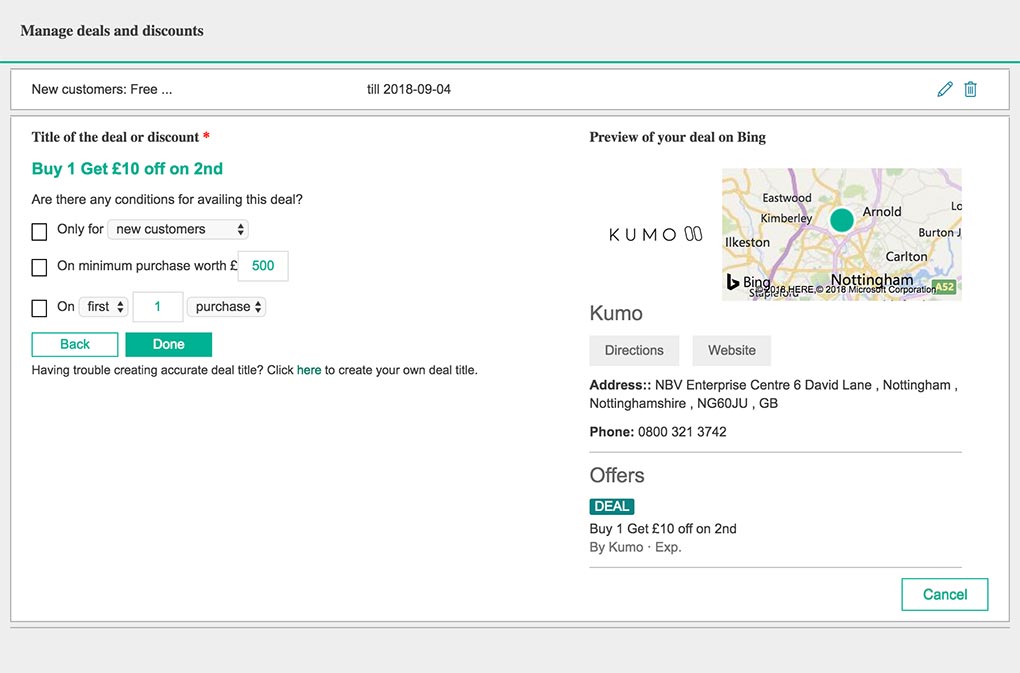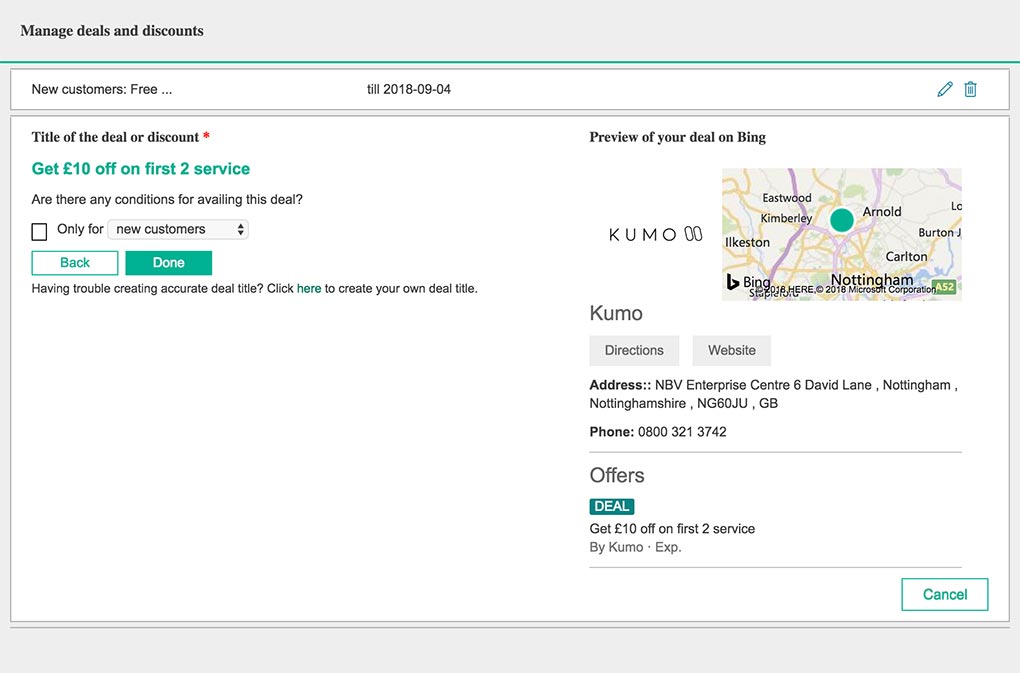 Create User Defined Deal Titles
There is also an alternative approach to configuring the free / discount options outlined above, however Bing's interface does make it difficult to identify as its only displayed as an available alternative at the final stage of configuring a pre defined deal.
To create your own deal title, simply follow one of the free / discount configuration methods through until the final stage. Rather than clicking the "Done" button, a short line of text will appear below: "Having trouble creating accurate deal title? Click here to create your own deal title.". Simply click the hyperlinked "here" text to display the user defined deal or discount page.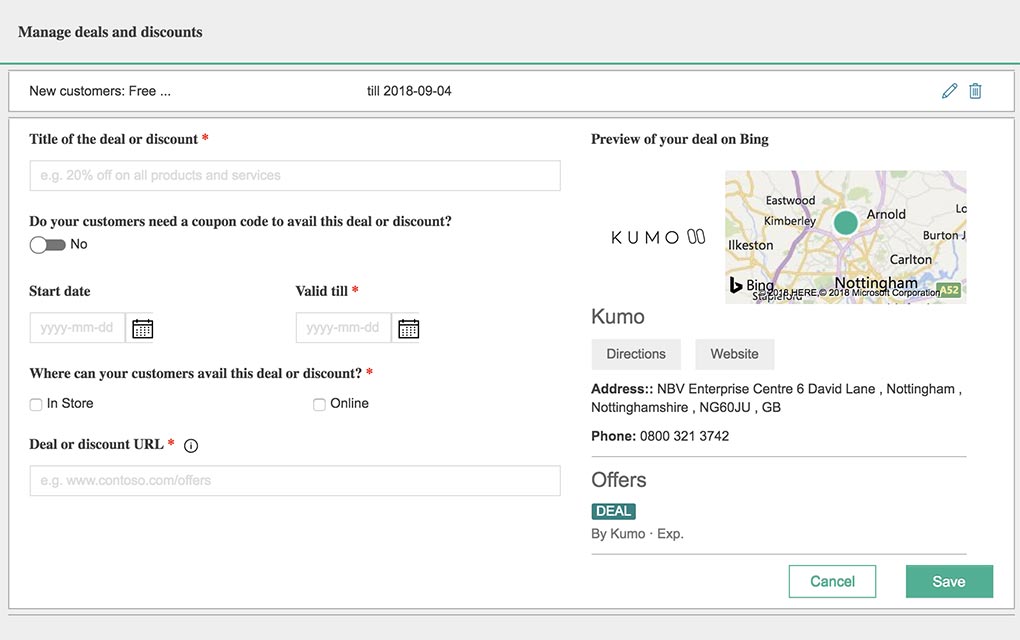 This custom deal has the benefit of inputting your own title rather than a predefined title based from options selections.
Final Deal Configuration Options
The final options available following the title configuration allow users to specify a coupon code and valid dates that it will be available. The full list of available fields are below:
Title of the deal or discount [text field] (editable)
Do your customers need a coupon code to avail this deal or discount? [yes/no option]
Start date [calendar input]
Valid till [calendar input]
Where can your customers avail this deal or discount?

[tick box] In Store
[tick box] Online

Deal or discount URL [text field]
Once the fields have been populated, simSaveply click the "" button and the deal will be available on your business Bing Places profile.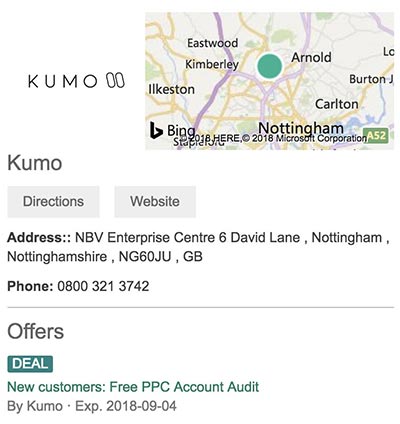 Managing Deals and Discounts in Bing Places for Business
To manage your active deals, expired deals or to add further deals or discounts, simply select the desired business profile within your Bing Places control panel and click the edit icon. If you have previously added offers you should now have a link within the listing editor panel labelled "Manage deals and discounts". Simply click the hyperlinked text to display the "Manage deals and discounts" panel to edit current or expired listings or to add new ones.

Bing Places Offers Expire
Please be aware that deal listings will be active for a maximum of 90 days at which point they will be deactivated, but still editable within your Bing Places for Business profile.
An email alert will be sent to the admin contact email address of the Bing Places account with an alert outlining expiring deals / offers 15 days prior to their expiry date. This allows you to then extend the validity further if required.