Back in March, Google replaced Analytics Premium with the Analytics 360 Suite. One of the debuting tools was the all-new Optimize 360, aimed at enhancing user experience.
If you've been wanting to test it out for yourself, a free version is being made available. That means that you can get your hands on some insightful data, without having to splash out on the full 360 Suite.
What Is Optimize 360?
What exactly is Optimize 360 good for, though? It's a very good question, especially if you've never used it.
It is essentially a testing tool, allowing for a landing page assessment and optimisation. As it's built on top of Google Analytics, users can see key data and determine which landing pages perform best, tied in with current information.
The key experiment here is personalising user experience and making your site speak to groups or individuals for better goal completion. Complete with A/B testing and real-time feedback, you'll be able to test and optimise personalised landing pages for a number of users and situations.
Returning Visitors
You likely have a ton of data of everybody who has completed a set goal. These are the people who have completed your desired actions and Optimize 360 can offer something if they do return.
Let's say that they do return. In most cases, they'll see the same pages as they did before. If you want to encourage them to once again engage, it's pretty easy to do so.
Just think about what you'd like to see as a returning customer. Perhaps a "Hey, welcome back" or "Thanks for coming back" greeting shows that you remember them and can convince them that your polite site is perfect for them.
Engaged Visitors
Loyalty is a great concept of any successful campaign. If you're seeing returning users who are fully engaged with your site, they're probably pretty big fans of what you do.
Whether they stay a lot longer than the average session time or consistently purchase items, there are a number of avenues you can explore.
If you're feeling particularly generous you can offer promotions or discounts. With that being said, these high-value visitors have shown purpose in the past and are likely to keep returning without these incentives.
Instead, you can test later landing pages. The obvious one is the checkout completion page. As these are your most dependable visitors, they'd probably be much more inclined to click email or social media share links.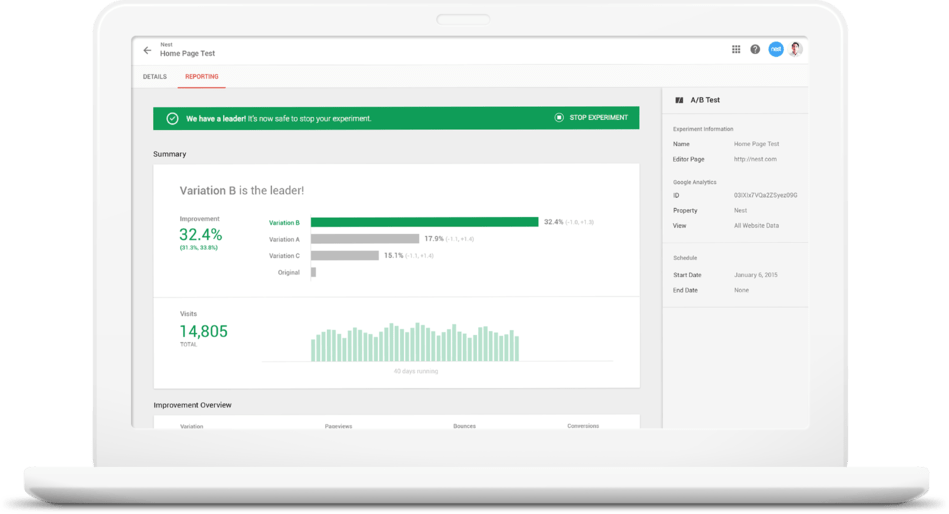 Concentrated Visitors
If you run an e-commerce store comprising of different categories, it may very well be the case that certain visitors are only interested in one of these.
If you know that Customer X spends all of their time browsing and purchasing particular products, why not make it easier for them to get where they want to go?
A better user experience is no doubt a key factor in encouraging return visits. If Customer X sees different navigation methods and menus to get to their desired category, they'll probably be rather satisfied.
Tweaking drop downs or changing main images to the category in question may work well. You could even try and promote another category as the main image with a tagline along the lines of "Perfect with [Customer X's favourite category]". Remember it's all about testing so you won't know what works best until your try.
Unknown Visitors
Many of your visitors will be unknown to you. Unless a visitor has actively created an account, made a purchase or subscribed to your mailing list you'll have no information at all on them.
Testing landing pages offering varying incentives can work a treat. It could be that you offer a discount for signing up from the home page. Maybe you'd rather test a guest checkout page with a price deduction if the user creates an account at that moment. You might offer a percentage off code after checkout for next purchase.
Again, split testing will let you see which pages perform the best and help you reach the ultimate goal of attaining user information. Once you have the data, you can use Optimize 360 to even more advantage and personalisation.
Sign Up
The beauty of this tool is that it really enables you to test out personalised messages and pages to any number of user type.
With clear insights into which landing pages accomplish their goals more effectively, you'll be able to instantly make key decisions that will hopefully take your site forward.
No details of what will be included in the free version of Optimize 360 were available at the time of writing. There's likely going to be limited functionality compared to the full priced tool but there will surely be enough great features to warrant at least trialling it.
For your chance to be amongst the first to test it out, you can sign up for the beta invite list here.