The Christmas period and the time leading up to it is the busiest time of year for ecommerce stores. In addition to preparing yourself for your own festive activities, you are probably anticipating an increased volume of traffic through your site and with a bit of luck, a higher number of conversions.
Juggling the need to update inventories, keeping an eye on your bids and keeping your budgets favourable can be difficult but also vital in terms of attracting custom during the hectic autumn and winter months.
There are three useful strategies you could implement with Google Shopping in an attempt to convert visitors into customers.
Controlling Your Google Shopping Campaign
After the initial setup of your Google Shopping campaign, you will be hoping to maximise results through the use of your carefully planned bids, goals and budgets.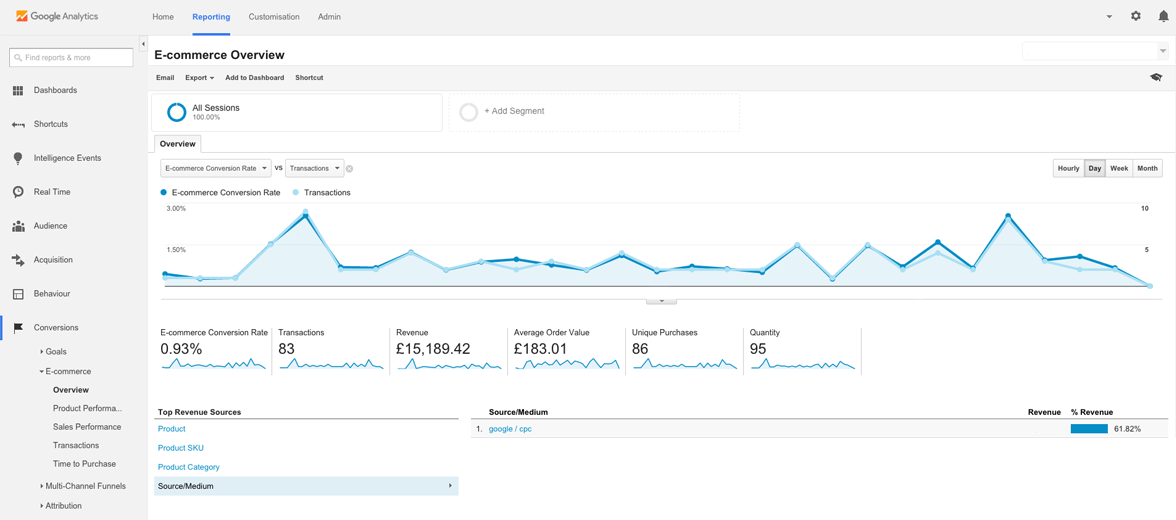 Goals
It is very likely that you already have campaign objectives in mind when starting. When you have goals set out, you can then find out how you can monitor results against your desired outcome.
Google themselves recommend sticking to bottom line and using profit volume as a measuring stick.
If it is difficult or impossible to use profit volume then you could perhaps use return-on-ad-spend (ROAS).
If revenue data is not at hand for you then another option is to use conversions to check how your targets are progressing.
Failing being able to use any of these three methods, use traffic until you can maintain a better system.
Bids
Your maximum cost per click needs to be considered carefully.
The amount you are willing to spend probably depends on the value of your product.
For example, if your figure is 10% of the cost, then an item priced at £100 will leave you with a max of £10.
The difficult part is finding the conversion rate for such items. For arguments sake, you know from research that your item has a conversion rate of 2%.
Multiplying your max by the conversion rate (£10 x 2%) will leave you with the maximum cost per click you will be willing to pay – in this case 20p.
This maximum CPC should be implemented within your campaign.
Budget
Your campaign budget should be able to incorporate your new goals sufficiently. Let's say that you aim to sell 20 units of your item per day:
20 units divided by the 2% conversion rate indicates that you need 1000 clicks per day to reach your target.
Each click costs you 20p. 1000 clicks therefore amounts to £200 needed for your campaign.
Once a few days have gone by, you can check search volumes and determine whether your initial bid and conversion rate are still correct.
If you are receiving more clicks than you thought, you could perhaps increase your budget to reflect this.
Getting Your Products Featured
Google may encounter issues that prevent your products from appearing on the site. Making sure your data feed is in optimal shape will provide Google with the relevant information to show your items. There are three main issues when encountering data feed problems.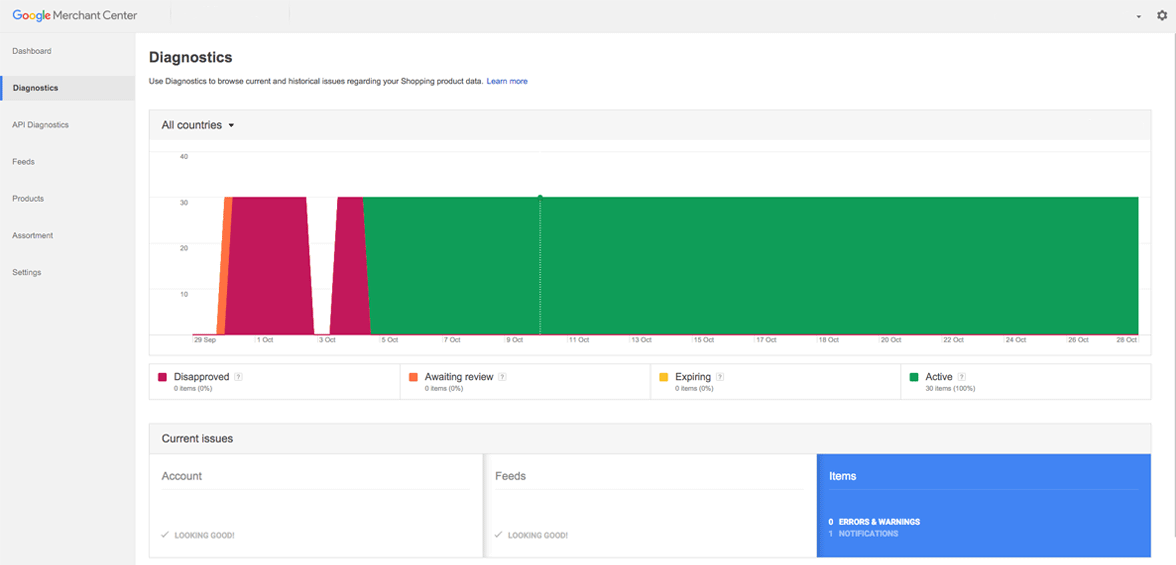 Feed Processing
The diagnostics tab in your account will show you the current status of your products: active, awaiting review, expiring and disapproved.
The feed card located at the bottom of the page will highlight issues that prevent Google from processing a feed including upload and fetch issues.
From here you can take the necessary steps to get your product online.
Data Quality
Accurate descriptions of your products and reflecting items on your site will make finding your products easier.
Using high quality images will allow customers to clearly see your items. It is recommended that you use light, solid backgrounds and images focus on the product for sale. 800px by 800px and slightly larger tend to be better than others.
Ensure that all images are free of banners, watermarks and promotion and saved in .gif, .jpg, .png, .bmp or .tif format.
Errors may be visible if your data contains unrecognised, or is lacking required attributes.
Ensure that all required fields of your data feed are filled and relevant fields such as price are identical to information on your site.
Look at implementing additional fields for your product data feeds to aid in maximising your feeds quality and relevance.
Policy Violations
Google policies must be adhered to in order to avoid items and even your account being suspended.
Familiarise yourself with restricted items Google will not sell. Check the latest policies regularly to keep up to date.
Removing the product(s) from your data feed can be the quickest and easiest way to remove a violation.
If you feel that for any reason you have received a violation that is incorrect and would like it to be manually reviewed, you may be able to request one within your Google Merchant Centre account.
Optimising Your Campaign
Now your campaign is active you can think about how to get the best return in investment.

Driving Traffic to Your Campaign
Ensure that your products are active and there are no errors or issues concerning items.
Maximise Clicks can adjust your bids to get the most clicks from your budget. Opt in in your campaign settings to set this up.
To manually change bids, you can use the bid simulator to find out how your bids will change and the number of clicks that will be generated.
The budget simulator can help you ascertain whether your current budget is enough to get the number of clicks you want, reveal if your predicted CPC is correct or your budget is sufficient to keep your ads on throughout the whole day.
Maximising Returns
Assuming your target is to maximise conversions, you should focus your optimisation on top products.
The dimensions tab will help give an analysis on how and where you are spending your budget including a cost per conversion figure.
You can check which categories are offering the best cost per conversion statistics and may wish to choose to alter your optimisation strategies accordingly.
Of course, these points will not only help drive up sales during the festive season. You may see longer term sale increases, as customers will easily be able to see products that you are selling.