Since the acquisition of LinkedIn by Microsoft in 2016, advertisers have been wondering when Microsoft advertising will allow its advertisers to target ad to audiences using LinkedIn profile data.
Recently David Pann, the GM of Microsoft Search Advertising, announced that (US) Bing Ads clients can now access profile targeting that will use LinkedIn data for all Bing search products on the platform. The feature is currently in beta testing and to join, you can get in touch with your Bing Ads representative or sign up to it from this Bing Ads page.
With an audience of over 575 million LinkedIn users globally, Bing Ads is now the only advertising platform that allows you to target potential customers based on their LinkedIn profile information. Using both companies' rich data and insights into their users, this will enable Bing Ads advertisers to gain an exclusive competitive reach in targeting customers in meaningful ways. Or as David Mann summarizes the new feature:
"Unique to the Bing Ads platform, this is a great opportunity for marketers to maximize their campaign spend with more precision-based targeting through the following three professional profile dimensions: Company, Job Function and Industry"
Advertisers familiar with the Bing Ads platform will be able to get started right away with LinkedIn profile targeting using familiar campaign creation & management tools. Profile targeting will work across all Bing search products – it is currently only available in the US, but will be released worldwide in the near future (date to be confirmed).
Setting Up LinkedIn Profile Targeting
Click Campaign targets.
Click Edit target categories.
Select Company, Industry, and/or Job function.
Select, click Edit target.
Search for industries, and/or job functions, and click Target for the appropriate ones.
Click Done for each target
Set a bid adjustment for each target as desired.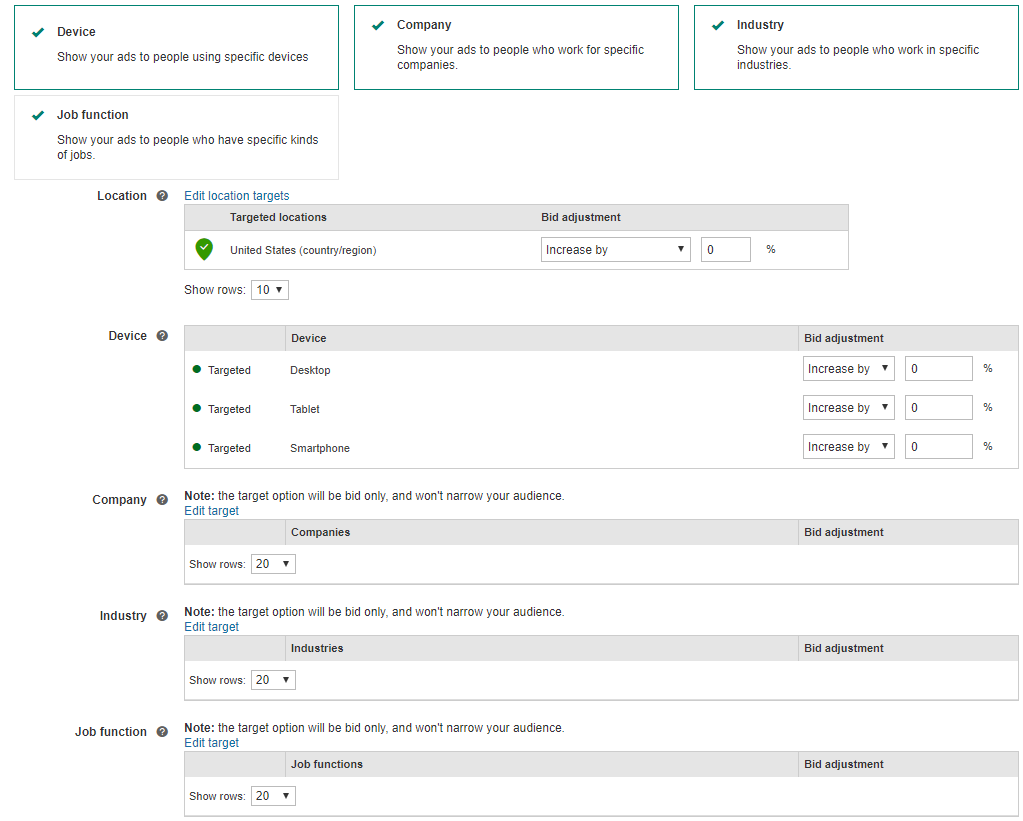 Adding Audiences when creating ad groups
Click Edit target categories
Select either Company, Industry or Job
If you have already set this targeting at the campaign level, you'll see the used campaign setting toggle switched on. To edit this target, switch the toggle off and then click Edit target.
Browse the available profiles & target the appropriate one.
Click Done.
Adding LinkedIn Profile to Existing Campaign
Go to the campaign or ad group Settings tab and look for the targets section.
Click Edit target categories and follow the above steps for setting campaign and ad group level targeting profile targeting.
Click Done and set bid adjustments as desired.
NB.
LinkedIn profile targeting will not narrow your ds audience just because you targeted a specific company. By targeting a specific company, you do not excluded people who do not work for that company.
If you are interested in Kumo's PPC (pay per click) marketing services, then please don't hesitate to get in touch with us today. Give our team a call on 0115 964 8205 or fill out our contact form.