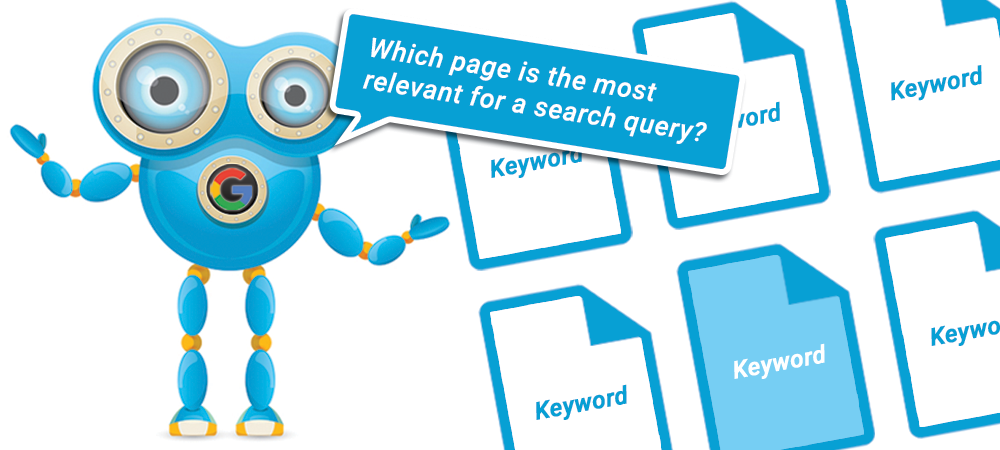 Businesses today rely heavily on their websites for generating leads, sales and enquiries. Achieving high rankings within the search engines is highly important in order for them to be competitive in their business sector. All too often these websites have issues with their SEO, one of the most common problems we see is that of Keyword Cannibalisation, but what exactly is it?
What Is Keyword Cannibalisation?
There is a common misconception when it comes to SEO, in particular keyword targeting within the content of your own website. Often people think that the more you use a specific keyword across multiple page of a website, the higher the chances are that you will rank for that given keyword. This is a myth and is often the cause of Keyword Cannibalisation (another cause is people not knowing that they are doing it).
Essentially, targeting the same keyword on multiple pages, reduces the effectiveness of that keyword, search engines like to see clear ranking signals to help determine which pages should rank for which keywords.
The Effects of Keyword Cannibalisation
Multiple URLs Fighting for rankings – The end result of targeting the same keyword on multiple pages of your site is that the search engines will continue to flip between the multiple URL's using those keyword targets. There will be no stability within the SERP's (search engine result pages) for your website, rankings will often fluctuate wildly as Google tries to determine which is the best page to rank for the user's search query. You are effectively competing with yourself for rankings!
There is a lack of content control – If two or more pages are competing for rankings you lose control over which version Google decides to show for a search query. As marketers we want to have the ability to show specific content or marketing messages to specific people to help them "do something" we want them to (usually convert into a sale or a lead). By letting the search engines determine which content they show you lose the element of "control". To maximise the chances of the intended content showing this keyword cannibalisation must be avoided.
You are reducing the authority of your pages – Instead of focusing your efforts and ranking power into just one highly relevant page on your site you are splitting your efforts over multiple pages. Google will always try to serve the most relevant page for a user's search query. By creating one highly focused and authoritative page instead Google is more likely to rank your page.
Wasting crawl budget – Crawl budget refers to the amount of time a search engine spider will spend crawling your website before heading off to its next website destination (search engines tend to visit your site multiple times before all of your content is indexed fully). To make sure you are making the most of your "crawl budget" you need to ensure you aren't giving them duplicated content or pages targeting the same terms, thus giving them more opportunity to index content which targets different keywords.
How to Identify Keyword Cannibalisation
Crawl your own site – One of the fastest ways to discover pages which are targeting the same keywords is to crawl your own website using a tool such as "Screaming Frog SEO Spider". Screaming Frog will act like a search engine, visiting your website and reporting on the pages it finds. By closely looking at the <title> tags of your site pages you can see where they are targeting the same keywords. Filter the Screaming Frog results to show you "duplicate titles" (example taken from TK Max).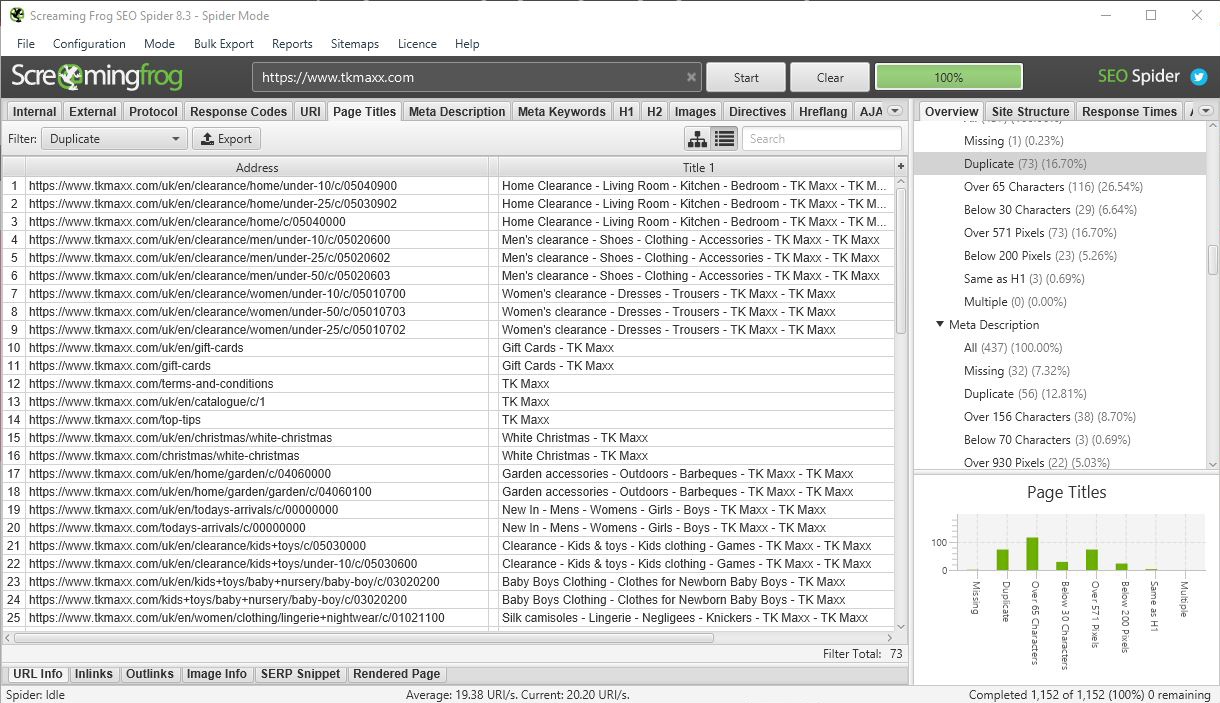 aHrefs – Organic Keywords Report – Another tool we use to help identify cannibalisation issues if ahrefs.com, specifically the "organic keywords report" this tool shows which pages are ranking for a specific term and shows the ranking positions in a line graph, where the different colours represent a different page ranking for the same keyword. You can see below two pages dropping in and out of the rankings for the term "cheap floor tiles" (www.tiles-direct.com).
This is a much more visual way to identify these cannibalised pages, you can also see the effect this "switching" between the two URL's in this example cause the rankings positions to fluctuate, the rankings dropped out all together at the end of August and end of November.
What You Need to Do in Order to Fix the Issue
The first stage in fixing the issue is identifying which pages on your website are suffering from Keyword cannibalisation, the two methods above will allow you to find these URL's. Once you have them, record them in a spreadsheet in column A.
You should now identify the keyword targets of these pages and add them to the spreadsheet in column B. Once done highlight the duplicate keywords to visually indicate which of the pages need your attention.
Option 1
The next stage is to closely examine the content of the pages which are conflicting with each other. If they are extremely similar you should consider combining & expanding upon one of these and removing the rest from your site architecture, ensuring you implement a 301 redirect to any URL's you are removing. The destination of the redirects should be the remaining page.
Option 2
The other option to deal with the cannibalised pages is to optimise them for new keyword targets, taking the content of the page and reworking it to target synonyms and close variations of the original keyword. This way you will have a much stronger site, more content and a much more in depth keyword targeting strategy.
Summary
Keyword cannibalisation is an extremely common problem with the majority of the websites we see, thankfully it is very simple to identify and fix. The result of fixing keyword cannibalisation is much more stable website rankings and a series of pages which are richer in content and help support each other.
If you enjoyed this article please consider sharing it via social media, finally if you have any questions or anything to add please feel free to leave a comment below. I will be happy to discuss keyword cannibalisation further with you.