Have you ever wanted to convince cart abandoners to follow up with their considered purchase? MailChimp users can do just that.
The Abandoned Cart workflow feature allows you to send a custom email complete with special offers and links to your products to encourage would-be buyers to take that final step. Subscribers and transactional recipients who leave your site having placed an order but not checked out will automatically receive your email and hopefully return and complete a transaction.
What Do You Need?
There are a few things to bear in mind before you can set up Abandoned Cart workflow so make sure you can tick the following boxes before diving in:
You have a paid MailChimp account which contains ecommerce data.
You're using MailChimp for Magento 1.0.6. Older versions won't support the feature so you'll have to update if not using 1.0.6 or
You have MailChimp for Shopify and the accounts are connected or
You're using a custom API 3.0 integration.
You can include the Cart content block in your Abandoned Cart email. Other templates won't work.
You should also be aware that:
There's a one store one workflow rule. You'll only be allowed one workflow per store. Multi-store owners can create one for each if desired.
Marketing mail non-subscribers will be a part of the transactional area of your MailChimp list.
If a buyer returns before receiving the workflow email, they'll be removed from the queue and it won't be sent.
Implementing Abandoned Cart Workflow
Creating an Abandoned Cart workflow is a fairly simple process. Log in to your MailChimp account, head over to the Automation page and follow these steps:
Step 1)
Click Add Automation

Step 2)
Go to the Explore Automations page and then Abandoned Cart workflow and Add Automation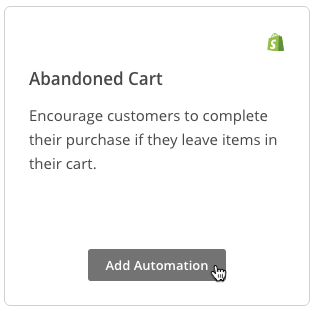 Step 3)
Choose your connected store from the menu. If you have more than one, select the one you'd like to set up the feature for and click Next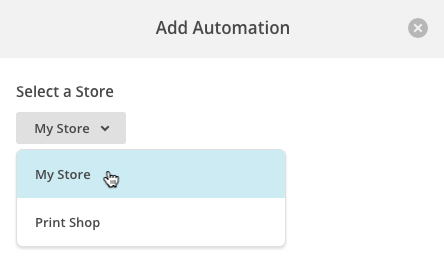 Set Your Rules
Once you've done this you'll see settings menu. You'll be able to review it and alter the usual things such as From, address and subject line.
On top of this, you'll notice a sending delay option which will determine how long will pass between cart abandonment and an email being sent. This can be between six and twenty-four hours. To edit this, follow these simple steps:
Step 1)
Click Edit Recipients

Step 2)
Go to the Hours drop down and select the timing you desire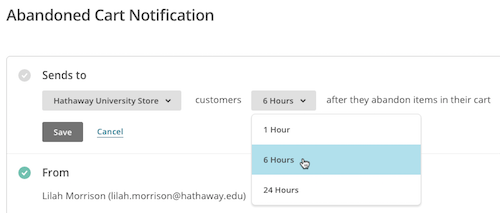 Step 3)
Click Save
Design Your Email
Of course you'll need to design Abandoned Cart email and it's the same practice as designing any other MailChimp based email such as in Campaign Builder. The difference is that Abandoned Cart workflow will include data taken from your store. You can choose a template or drag and drop one with the Cart content block to do this.
To create your email all you have to do is:
Go to the content section of settings menu and click Design Email
In the design phase, you'll be able to create and preview your Abandoned Cart campaign
Click Save and Return and then Start Sending
That's all there is to it. Potential customers will now start receiving your emails and with the right template blended with a little persuasion and a bit of luck, they'll come back and finish what they started.
Persuading Customers to Checkout
Abandoned carts is one the biggest gripes online retailers have. Of course, we've all thought about buying something at some point and then re-evaluated and decided against it.
With MailChimp's Abandoned Cart feature, you may be able to sway prospective customers in your favour.