So what exactly is Inbound Marketing?
If you have spent any time within the digital marketing industry you will have heard of the term "inbound marketing". Until fairly recently there was a fantastic resource initially created by Rand Fishkin of Moz fame called inbound.org which was specifically focused on inbound marketing news and articles, this was recently re-branded to growth.org, read about the change here.
Inbound marketing has become somewhat of a "buzz word" within our industry but it is essentially a strategy to "pull" people towards your business rather than you having to spend time actively pushing your brand, services or products outwards to potential customers. The marketing giant HubSpot is widely regarded as the first to coin the phrase way back in 2006.
The basic principles of inbound marketing are centred around creating high quality content which provides valuable and helpful information to your potential customers. These potential customers are then likely to visit your website to read your content. Once you have them on your website you then engage with them via conversation tools such as chat boxes or email. The overall goal of inbound marketing is to build trust with your customers and provide value. A happy customer then becomes an advocate for your business.
The 3 stages of inbound marketing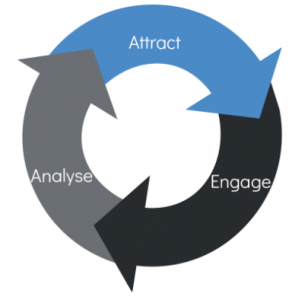 1 – Attract
The first thing you need to ask yourself when planning an inbound marketing campaign is "what is my target persona?" or "who am I wanting to attract?". Essentially you want the right type of customer who is aligned with your broader business goals.
The most common marketing channels to attract new customers to your website are within "search" and "social". SEO and PPC are the two main channels where your customer is already searching for what you provide, you are simply tapping into their buying intent. Social media is a little different and involves you appearing where your target audience "hangs out" and engaging with them.
It is vital that the content you are producing at this stage is high quality and engaging and fulfils your targets needs (of which there could be many). The trick is to provide the right content at the right time.
Remarketing is a highly effective tactic when attracting potential customers via your inbound marketing campaign and keeping them engaged. Re-marketing to people who are already familiar to you, your brand, products and services greatly improves the chances that they will convert into a new customer.
2 – Engage & Close
Once the right customers are landing on your website your job is to convert them into a lead through capturing their contact information on a landing page or page on your website. Provided the information on the landing page answers their "need" they are more likely to engage with your via an on-site contact form, chat box, newsletter signup etc…
Once they have engaged in conversation with you it's time to close the sale. It is at this stage where they are transferred into customers.
One of the primary goals for any Inbound Marketing campaign is to retain the interest and engagement of your customers, building long lasting relationships and increasing trust in your brand.
3 – Analyse
Following the conversion it is important to analyse and adapt your strategy accordingly. By looking at what worked and more importantly what didn't work as well as it could you are able to alter the processes and optimise your processes ready for the next round of enquiries.
It is vital to split test your landing pages to determine which types of content, messaging, calls to action etc.. These can then be implemented for future campaigns.
The Benefits of Inbound Marketing
Highly Cost Effective
By making sure you are delivering your content and adverts in the right places at the right times will help you make sure you are attracting the right type of customer to your business. Inbound marketing compared to other strategies is highly cost effective, reducing wasted advertising budget and generating leads at a much lower cost per lead.
Long Term Strategy
One of the results of a well executed Inbound Marketing campaign is long lasting relationships with your customers, meaning they are likely to become brand ambassadors helping to build your referral strategy.
Its Immediate
When somebody is looking to purchase a product online or find out more about a specific service your website or adverts are displayed to them at the time of searching. This means they are more likely to visit your website when they are in "buying mode".
Build Your Brand
Inbound marketing has given even the smallest company the opportunity to place its company brand in front of 1000's of potential customers.